2020 Design: What's cooking in kitchens
A lot of us are spending more time in the kitchen, which means we may begin thinking more about those things we've dreamed of adding or thought about upgrading. Why not make 2020 the year you make your kitchen vision a reality? A design-build firm can help bring new trends to life in your home. Our team has put together some ideas that will make your home pop in 2020 and for years to come!
2020 Kitchen Design Trends
Paint Color
All white kitchens remain popular and give off a nice clean look, but in order to truly give your kitchen space that wow factor, consider adding a pinch of color to make it feel more alive. Making the island or base cabinets a different color will draw the eye to the centerpiece of the kitchen, or perhaps try a different color on the ceiling to give your kitchen a more cozy feel.
You may find balancing colors to be a difficult thing to do, but selecting the right base color will make it easier. Navy is one of the kitchen color trends we're seeing for 2020. We like it because it's not as dark as black but it's not too light to give off that beachy sky blue tone. Navy also pairs well with different shades of yellow, green earth tones, or even a burnt orange. It coordinates with almost all hardware finishes such as copper, bronze, gold, black, chrome, and brushed nickel metals in case you were wanting to give your appliances or cabinet hardware an upgrade.
If you're looking at installing new flooring or countertops, most wood stains whether reds to oranges or deeper browns all complement navy blue. Using butcher block for an island top or many engineered quartz brands offer a vast array of selections to choose from that coordinate well with navy blue.
Statement Appliances
Don't dwell on the idea of hiding your appliances. Your guests know that you use them, so why not make them one of the many statements in your kitchen? If you're just looking to upgrade a piece or two, perhaps find a white double farmhouse sink and pair it with a copper faucet; or replace your range with a trendy gas oven option to make cooking faster and to give your workspace a nice clean look.
There are statement appliances for every style, from Retro to Italian to Farmhouse, and plenty of choices to add a fresh, trendy feel to your home in the most used room in the house. Like always, color plays a major factor in creating the statement. From bright and bold to neutral and pastel, finding the perfect color will take your kitchen to the next level.
Most brands offer these appliances in colored packages, so if it's not just the oven or the microwave you want to stand out in your kitchen, you have that comprehensive option. Some styles have even added removable panels to change out whenever you feel like it. This works well for those who like to switch things up often or even with the seasons. For example, warm colors in the Fall and Winter and brighter colors in the Spring and Summer. It's a great opportunity for customization, especially if you have trouble making up your mind!
For a more Italian style kitchen, look to bell-shaped hoods above the oven. There are more hood designs and styles on the market than ever, including both mixed metal and colors. The best of both worlds! If the thought of appliances that come in packages is going overboard for you, a designer hood is a great option because it takes the cake individually.
Practical and Hidden Storage
Organization never goes out of style! Make your kitchen more practical with deeper drawers which can help hide away the clutter that builds up in smaller spaces that you may currently have. Make the space even more functional by including organizational pieces for your utensils, spices or Tupperware.
Create a slide-out cabinet to fill with wine bottles, spices, or cooking trays. Instead of trying to cram everything into one space, create an organizational cabinet from space your kitchen already has. For instance, that little bit of wall space to the side of your refrigerator could be the perfect spot! As long as there is depth and height to cut up and back into the wall to place the cabinet, you have yourself an excellent wall cabinet.
Countertops
Quartz – While marble or granite countertops will never seemingly go out of style, quartz is becoming the more affordable material of choice for many homeowners.
Quartz countertops offer a more consistent look and don't need to be sealed once installed in your kitchen. Another advantage is its nonporous nature which makes it much easier to clean… so for you red wine drinkers out there, quartz countertops can make your life much easier.
Granite – If you're looking for durability but not as concerned with a consistent appearance, granite may be your best option. Since it is natural, each slab can vary when installed – great news if you like being unique! Selecting specific slabs with their variations is also a possibility when visiting the stone yard. Its composition makes granite the most durable countertop option for your home. Although it does require resealing to reduce the absorption of liquids and spills, some options are less porous and don't need to be sealed as often.
If you think you know what granite countertops look like when you picture them in your head, 2020 is bringing new cuts and designs for granite that may have you mistaking it for marble. These pieces are cut from the side which produces veining to give it a beautiful appearance.
Like a quartz countertop, granite comes in a range of prices and will depend on a few factors including color, the availability and the appearance of the slab. Whether you feel like granite is "in style" or not, granite is a timeless material that will always create a classic look. The natural warmth and beauty it provides is untouchable.
Marble – With the beauty of marble countertops can come big consequences if you don't take proper care of the surface. Like granite, marble is porous. It also scratches easily and stains frequently.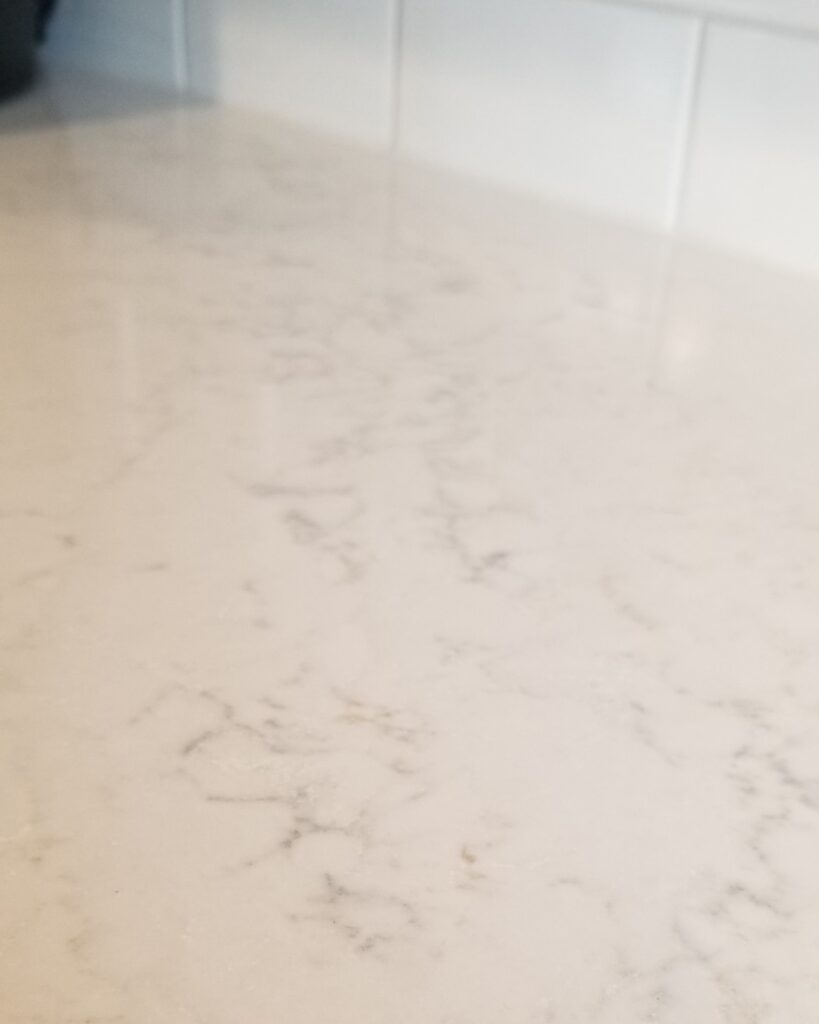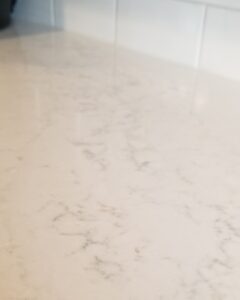 But in the right home with the right homeowner, marble can be a gorgeous finish that brings elegance to your room. We often don't recommend this for kitchen countertops, but used as a carefully chosen focal point could be the icing on the cake. Not all marble is white.
Thanks to the popularity of the look of white marble countertops, engineers have invented new ways to make quartz pass for marble. Vicostone Valley White, Cambria Torquay, HanStone Montauk, Silestone Helix, Caesarstone Statuario Nuvo, Silestone Lyra, Vicostone Greylac, and Caesarstone Misty Carrera are just a few names of quartz countertops that resemble marble.
When deciding which countertop to install in your home, think of all the different activities that go on in your home's kitchen. If you have kids, what are some of the activities that your children like to do that involve the countertop? You wouldn't want a red marker or a juice spill to cost you a lot of money to clean up. Even the occasional wine night you might host for your friends needs to be a consideration before installation.
Kitchen Larders
Larders can be large enough to house many of the things you traditionally put in your pantry, but small enough to add a decorative yet organized feel to your kitchen. If you're looking for a statement piece that fits your style, this could be for you. Use your larder as a decorative option for storage. Kitchen larders can be big enough to place shelving on the bottom and cabinet space on the top for all your organizational needs. Add some color too and create a "pretty pantry" for everyone to see.
The color of 2020 is navy blue, and while some may be hesitant to include the color navy in their kitchen because they think it won't go with anything, consider a kitchen larder. Navy has always been a good go-to accent wall color to include in your home, but instead of painting your wall, why not try your kitchen larder as your "accent wall." Since the sizing of your larder is up you, you can choose how much navy blue goes into your space.
Reclaimed Wood
Sustainability is becoming one of the most popular "must haves" for consumers when it comes to home building and décor. Therefore, companies are moving to more natural, eco-friendly looks like reclaimed wood. Deploy it for your shelving, your seating, or even use it for the trim in your house. Find that piece that feels like it originally belonged in your home and wasn't painted over. Use it to bring that "homey" feeling back into the kitchen.
More ideas to implement reclaimed wood into your home beyond flooring include: Dining tables, dining table benches, wall décor, and backsplashes. See below on the different ways darker floors can bring your kitchen together.
Mix and Match Kitchen Metals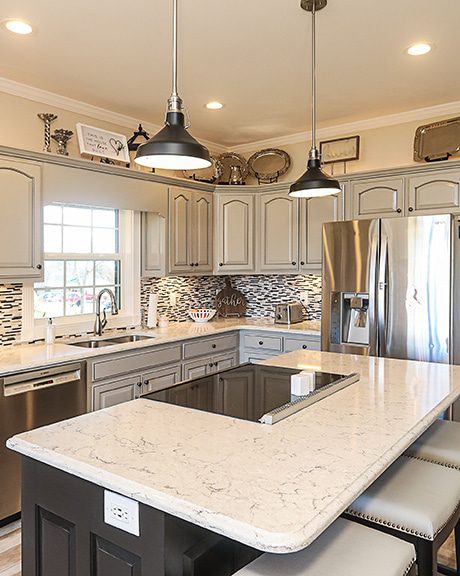 If you like mixing things up, 2020 is your year. Appliances do not need to match fixtures or other room accents.
We are so excited that navy is the color of 2020 due to all the different kitchen hardware options you can use! If you love the Farmhouse style kitchen look, pairing your navy accent wall with brass metal touches throughout the room ties everything together.
Don't be stuck on the stainless-steel look for your kitchen faucet. Consider a "black and gold" faucet that will go perfect with your statement farmhouse sink! Try pairing it with brass and black pendant light fixtures over your kitchen island with brass cabinet hardware. If you love your traditional style kitchen, pair your navy cabinets with nickel hardware.
If you currently have stainless steel appliances and are not looking to upgrade them, a perfect metal pair with stainless steel is copper. Don't just limit yourself to kitchen hardware when it comes these metals. Use it for your bowls, chargers or even your fruit basket. Your kitchen will thank you for giving it a little "pop."
Open Kitchen and Living Spaces
Both the living room and the kitchen are your two most visited places in your home. Why not improve the flow of traffic, conversation and design by making it all one big room? Open floor plans are nothing new in 2020, but they remain one of the most sought-after features for home buyers and those considering a renovation project.
Joanna Gaines wasn't the first person to know that open floor plans are a great feature, but her designs along with those of other HGTV personalities have helped entrench their popularity. Tearing down walls that chop up your space and make your home's rooms feel small can add value to your home.
You put the money into the four walls for a reason, so give yourself more bang for your buck and make the space unified. Home isn't a home without your family, so open up that space so you can see and spend time with them without the hassle of a wall in your way.
Darker Floors
Darker colors can make a room feel cozier. Incorporating darker flooring is a great way to bring that comforting feeling while still making the kitchen feel alive for early mornings or entertaining.
A variety of darker wood colors that work great in kitchens include: Walnut, Brown Mahogany, Antique Cherry, Kona, Ebony or Espresso.
Even if you don't want wooden floors in your kitchen because you may fear the spills, the scratches and the cleanup, luckily those scares can be solved with other flooring materials. Tile floors come in darker options, and with the evolution of technology can even look like wood. So save the stress over messy clean-ups and install dark tile floors in your kitchen.
Not only is technology improving with tile flooring, but with laminate flooring as well. Laminate continues to gain popularity because thanks to new water resistant and waterproof options. Laminate flooring can give your kitchen that wood floor look you love but without the cost and maintenance of real wood.
Ready to update your kitchen in 2020? Have Tracy Tesmer Design/Remodeling help bring your vision to life.
Contact us today to get started.
Additional reading:
Questions to consider before a kitchen remodel.