Don't Overlook These 2021 Kitchen Cabinet Trends 
Kitchen trends tend to stick around a little longer than bathroom trends. But with that being said, microtrends are always changing as new products, colors, finishes and features enter the market.
When it comes to kitchen cabinets, you can't go wrong with a classic white look. Although door style trends have changed, white kitchens have been around for decades and tend to have a classic feel.
Kitchen Cabinet Considerations
Cabinet colors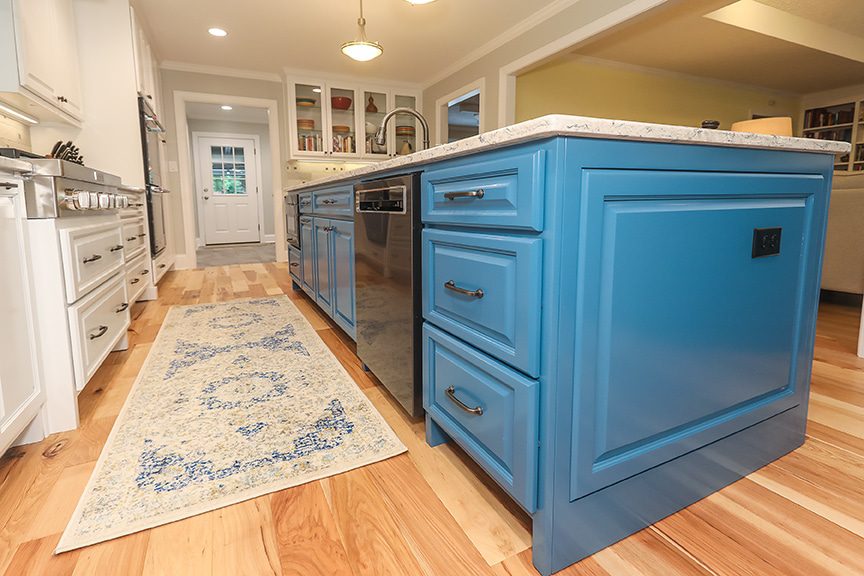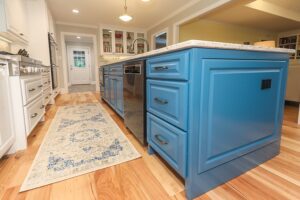 Some of our designers' favorite whites for kitchen cabinets are Pure White or Greek Villa by Sherwin Williams or Cloud Cover or White Dove by Benjamin Moore. These options are slightly off-white but provide a timeless feel without going too stark or sterile. If you love white cabinets but want to make the space feel more your own, consider adding an accent color, either to a hood, some open shelving or an island.
Grays have been around for a while now, but we've seen them working their way out in turn for warmer or more nature-inspired tones. Warm grays and browns, natural wood tones, greens, and earthy reds have been showing up in kitchens lately. Blues, of course, are still in the mix, too.
Mix and match is certainly an option when it comes to the kitchen, but try not to over-do it. If your space is large, you might be able to go with up to three colors for your cabinets, but our typical rule of thumb is to stop with two. If you introduce too many colors or textures into the space, you could end up with sensory overload and the space will just look busy.
Introducing too many finishes can also date the space. Remember, that in addition to the cabinets, you must consider all the other finishes going into the space: countertops, backsplash, flooring, etc., then decide what you want to be your main focal point.
Cabinet doors
Along with cabinet color, it's also important to consider the door style and cabinet overlay. For a long time, raised panel doors were at the top. But for the last several years, shaker door styles have taken over. Shaker is still a very popular choice today, whether it be a pure, straight-lined shaker or a beaded or beveled shaker; they all have a clean look that can go with almost any décor.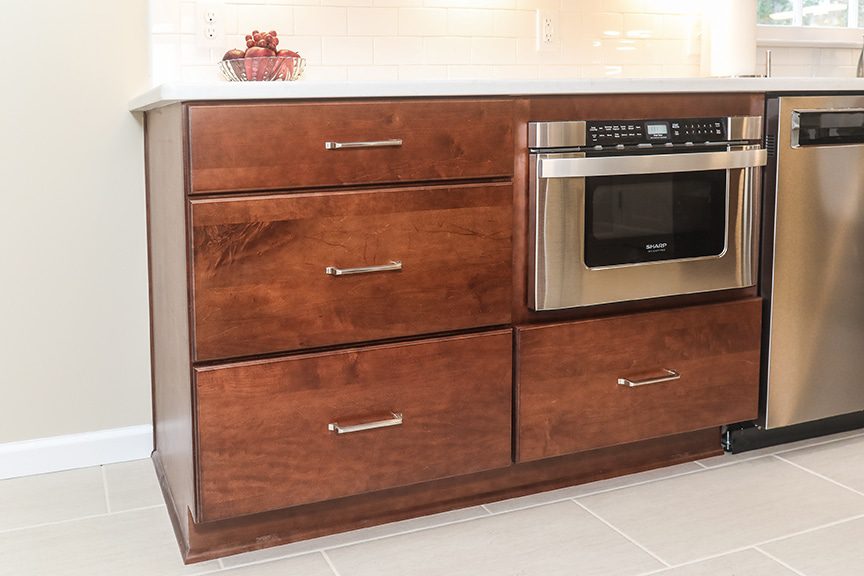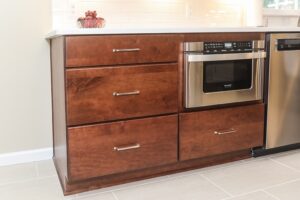 Slab doors are getting to be popular as well, as they offer an even more straight-lined and modern look. Plus, they allow for some more creativity when it comes to decorative hardware, i.e. pulls and knobs. Slab doors also look great in either a painted or stained finish, not just the high gloss contemporary finishes.
Other flat panel (as opposed to raised panel) options are popular as well. As we mentioned earlier, these are slight variations of the common shaker door, but offer a little more individuality.
Door overlay is also something to consider when it comes to the look of your cabinets. A traditional overlay was most common for many, many years. Traditional overlay basically means the cabinet doors were spaced apart such that you could see the face frames of the cabinet boxes. These also have the center rail, or divider, in larger cabinets with two doors which everyone now hates, because those dividers limit what you can get into the cabinet.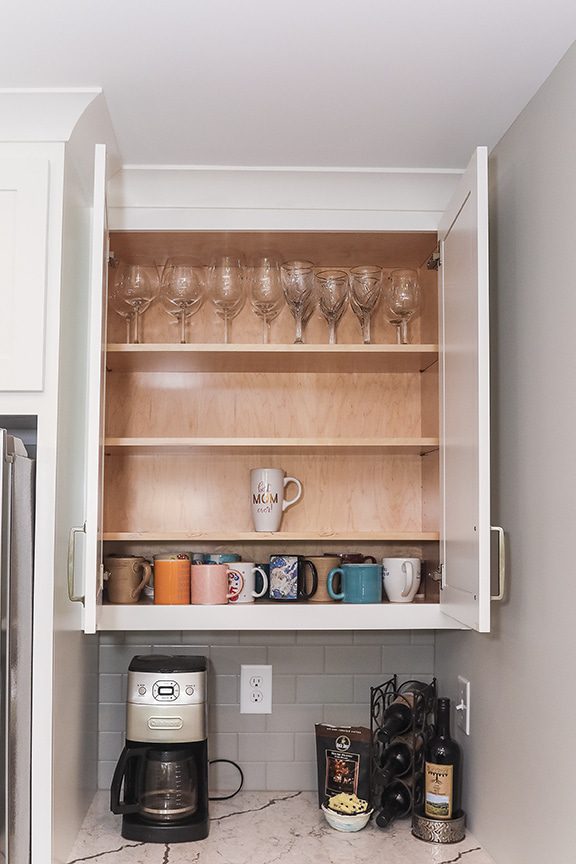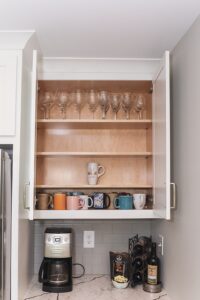 The most common today is full overlay, which means the cabinet doors all bump up to each other to cover the cabinet frames which create a more seamless look. This overlay style also eliminates the center divider to give full access to larger cabinets.
Inset cabinetry is beautiful, but not as common because it takes someone who really knows what they're doing to get everything balanced and lined up properly. Inset doors sit inside the cabinet frames to create a completely flush look. If going with this style, one of our favorites is a company called Shiloh cabinetry. These are semi-custom cabinets designed and built to your kitchen specs and dimensions but cut and finished in a factory.
Other cabinet considerations
When it comes to kitchen cabinets, there are certainly other factors to consider than color and door style. Functionality is just as important as looks, and you don't have to choose one over the other anymore. In a previous article we discussed kitchen storage and organization solutions.
There are practically an infinite number of accessories, roll out shelving and organizers, or other solutions to make your kitchen more organized and easier to use. Make sure you consider all the options when redesigning or updating your kitchen, so your space really works for you.
This article originally appeared in the June 2021 edition of Lakeside News.