8 Smart Storage Solutions for Bathrooms
There's no escaping the fact that bathrooms are integral to every home. Whether your space is small or large, storage in a bathroom always seems to be at a premium.
Here we'll share some easy do-it-yourself solutions to enhance storage and reduce clutter, as well as some great ideas to keep in mind for a future remodel.
Bathroom Storage Solutions
Choose a sink with storage
When you are considering a remodel, you might be drawn to a pedestal sink of some kind. To enhance storage space, consider installing a sink with a built-in cabinet. This will provide storage for the smaller toiletries that would otherwise congregate on the sink's countertop.

Install shelving, cabinets
There is a lot of unused space in a bathroom. Traditionally, primary storage in bathrooms has been limited to a linen closet or cabinets under the vanity. Often this means there are opportunities in areas above the toilet and along other walls. Make that unused space work for you by adding shelving or extending cabinets vertically. Perfect for neatly folded towels or baskets to hold toiletries, additional shelving or cabinetry keeps the bathroom tidy while also adding functionality to your space.
Pull-out hampers
Consider a pull-out hamper if you have a closet or cabinetry in your bathroom. These take up less floor space in the room and can help the space to seem bigger. Pull-outs also help keep the room looking neat and clean.
Install a mirror with a built-in medicine cabinet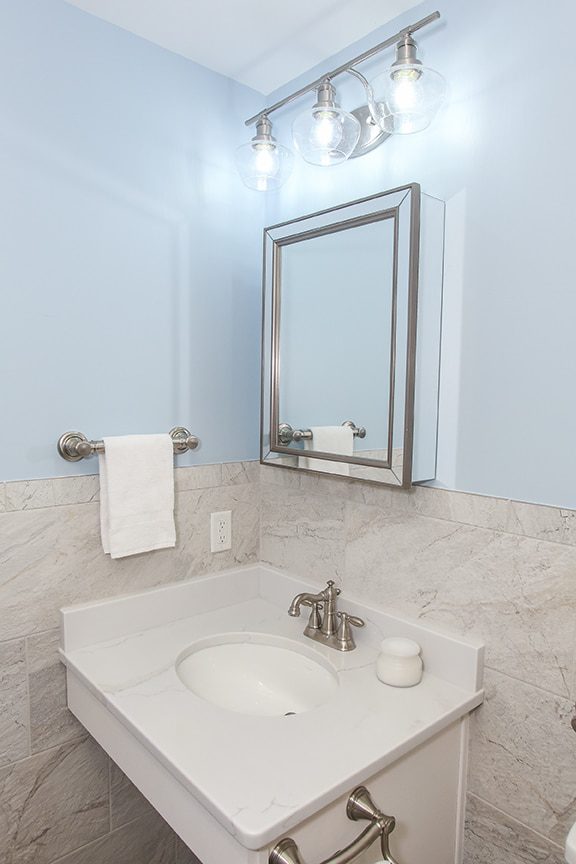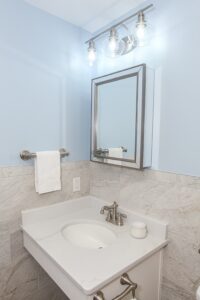 All the necessary toiletry items in a bathroom can take up a lot of space and make a small room look untidy.
Hiding toothbrushes and medicines behind the mirror clears up counter room and leaves the space looking neat. For a more elegant touch in a master bath, a center cabinet between the two vanity mirrors accomplishes the same thing in a more robust way.
Try a storage ladder
A storage ladder allows you to hang towels as well as mount small baskets that might be useful for holding extra toilet tissue, soaps and other bathroom necessities. They don't protrude much from the wall, so your floor space is salvaged.
Utilize baskets
Lidded baskets of varying sizes can be used to hold towels, tissue, and cleaning supplies without making a bathroom look messy. Often it adds a functional, yet decorative element to your bathroom.
Niches and shower shelves
If you're replacing your shower during a bathroom remodel, consider integrating an inset tiled niche or shelving into the design. Choosing a Vikrell shower unit with more places to store commonly used items is also an option. Many different styles of add-on shelving are also available in the marketplace if you are waiting to remodel.

Use a spinning tray or pull out
Lazy Susans aren't just for your kitchen. Stored in a cabinet, turntables can help you avoid knocking over bottles to get to what you need. Options are also available for trays or smaller pull outs to work around vanity plumbing.
The possibilities for storage in your bathroom are almost endless. Sometimes it just takes some creativity or someone with expertise. Give us a call at 678-450-1700, and we can help you figure out the options that work best for you!