Add a taste of the great outdoors at home!
Outdoor living spaces have been a popular design and renovation trend for the past several years and they're here to stay. With most people still spending more time at home and better material options, outdoor living spaces are more popular than ever.
Decks and patios, specifically, have long been a popular home feature. If you have an outdoor patio or deck, now could be a great time to consider an update. Either updating, redesigning, or enclosing these spaces into a sunroom or patio can allow for more entertaining space. One of the top requests I hear as a designer, is to create an outdoor living space that flows seamlessly from the interior. Many people are looking to finish their outdoor space to be an extension of their home. This can be created with decks, screened porches, patios, or sunrooms, depending on the layout of your home.
Sunrooms and screened porches offer more protection from the elements ­– heat, rain, bugs, etc. – and can be used no matter the weather. One element that helps make these areas useable all year is a heat element or feature.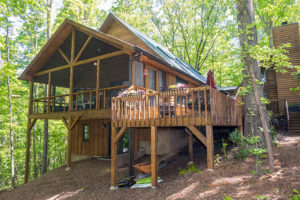 If you look on home improvement websites, you'll see an abundance of outdoor fireplace or fire pit pictures. There are so many interesting options and designs to bring these elements into your space and make them your own. If you already have a patio, covered porch or sunroom, adding a fireplace is not difficult at all.
First, decide where you want the structure, making sure not to block any great views or disrupt natural walkways. Depending on your personal style and style of your home, a stone or brick fireplace could add just the rustic or modern touch your space needs. If you have an enclosed space like a sunroom, you have the option to go with gas; but with a patio or open-air deck, you're best to go with wood-burning so you don't have to keep re-igniting.
If you don't want to commit to a full fireplace, fire pits or fire tables are still trending, as well. When you search fire pit ideas online, you'll see everything from a primitive hole in the ground lined with stone and gravel surrounded by chairs to an elaborate recessed stone pit with built-in patio and seating around. Fire pits are a great place for gathering, hanging out on cool evenings or during fall and early winter months here in Georgia. Who doesn't love toasted marshmallows or s'mores in the fall? If you're thinking about re-doing an existing patio or building new, consider adding a fire element into the design for some added warmth and coziness.
Outdoor kitchens and grilling areas also remain a popular renovation request. On one hand, they provide everything needed for grilling in one convenient place and in easy reach, rather than having to make several trips in and out of the house. And on the other hand, they provide additional entertaining areas, so the grill master doesn't have to be isolated from the party or guests.
A covered outdoor bar or kitchen is a great addition to nearly any backyard. There are lots of material options out there for this type of space as well; you can either build the kitchen or bar out of brick or stone or there are lines of cabinetry specifically made for outdoors. When you're selecting materials like countertops, natural granite, stainless steel, or newer porcelain options all work outside. For flooring, consider materials with a matte or honed finish and some texture to avoid slips. Porcelain tile, travertine, stone or brick pavers or concrete all work well.
If you are on a tight budget, don't worry, there are still options to transform an existing patio or deck. First, consider refinishing with a fresh coat of stain for a wooden deck or concrete epoxy for a patio. This will bring new life and color to your space. If you have a wooden deck, just be sure to replace any rotten boards or screw down any loose boards to make sure the structure is beautiful and safe. If you have an open patio but want to add some shade to be able to use the space all summer, consider adding a trellis with some creeping plants or a pergola. DIY pergola kits or plans can easily be found online.
When it comes to outdoor living and entertaining, the options are endless. Plan out the space to fit your needs and lifestyle and you'll have added space to your home that you'll be able to enjoy for years to come.
This article first appeared in Lakeside News.