Colors we're focusing on this Fall
The first official days of Fall are here, and what better way to celebrate the arrival of this new season than with a conversation about the 2017 Fall color trends.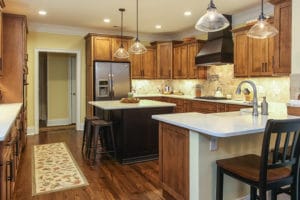 This year we are seeing a lot of influence coming from the arts. We have several tones that remind us of regal and sophisticated contemporary art such as dark burgundies, rich chocolate browns and even spicy gold shades. You will feel a sense of indulgence as you tab through the trends of the season.
The stark contrast between this season's blush pinks and deep ebonies points to one of the more exciting looks. A wide range of light and dark colors give us ample opportunity to play with total opposite ends of the spectrum.
Fall is seeing a decline in the farmhouse whites and grays and a move toward luxe colors such as Caribbean Teal and Fading Twilight. We have no doubt you will be left feeling royal and refined after adding an accent wall with this Fall's colors.
Check out the full list of colors dominating Fall 2017 below:
Chalk White
Cloud Cover
Iceberg
Porcelain
Blush Pink
Victorian Mauve
Spicy Gold
Guacamole
Dark Burgundy
Grandfather Clock Brown
Caribbean Teal
Fading Twilight
Salamander
Ebony
Ready to commit to this season's latest trends? Here are some great ideas to help you get started.
Black Built-ins
We have seen dark hues popping up in home studies everywhere. Give your study room a new and dramatic feel this fall using the Ebony tone.
Shadow Stairways
You'll want to take full advantage of Benjamin Moore's color of the year (shadow 2117-30) to give your stairway a new pop. "It ebbs and flows with its surroundings, and light brings it to life," says Ellen O'Neill, creative director for Benjamin Moore. "Rich, royal amethyst can fade into the soft lilac-grey of distant mountains or morph into lustrous coal. Indulge your mysterious side. Let Shadow set the mood."
Blush Accents
Give your accessories some life! Trade in your neutral rug or pillow for a brighter pink one. Cozy up to the idea of a little pop of pink in your home, and you will be set for fall.
At Tracy Tesmer Design/Remodeling, our experts work with you each step of the way, from designing and choosing materials and colors to managing the entire build process. Not only do we take into account your preferences, but we'll give you feedback on your ideas and fill in any blanks.
Give us a call or use our contact form to discuss how we can work together on your next project!