On Deck: Composite versus pressure-treated wood
Deciding how to design your dream deck can be exciting, but sometimes the most complicated part is choosing the actual decking material. Pressure-treated wood is the more familiar option to many homeowners and is still a popular option for most. However, some homeowners are beginning to make the transition from the high-maintenance wood to a low-maintenance composite decking such as Trex.
Regardless of which option you may be leaning toward, when choosing your decking (and everything else), you need to weigh the advantages and disadvantages of the options in order to make the perfect decision for you and your home. Trex decking may be the hassle-free alternative, but there are still a few things you will need to consider.
Let's Compare!
Affordability
For most people, price is a big, if not the biggest, factor in deciding what will work best for their deck remodel. Pressure-treated wood is definitely the less expensive option when comparing it to other types of natural woods and especially to composite decking. Pressure-treated wood remains the best option for those who are remodeling on a smaller budget.
Trex composite decking may be more expensive initially, but in the long run, it begins to pay for itself since there is little maintenance required. Maintenance costs on pressure-treated wood decks add up over time due to the annual aging of the wood and the need for re-painting, sanding, staining and sealing. Therefore, it depends on if you want to handle a larger expense up front, or the expenses later down the road.
Splinters and Checking
It seems like you can never get away from splinters when you're dealing with wood. Well, good news! Trex composite decking is made with wood fibers that are encased in plastic, so it will never splinter. This is a huge benefit, especially for those who enjoy sunbathing, being barefoot, or having small children play on the back deck.
Decks built with pressure-treated wood can quickly become a safety hazard once they begin to split, splinter and/or rot. This can become frustrating especially when you have to perform regular upkeep in order to ensure that your deck is safe for all activities.
Maintenance
As mentioned earlier, even though pressure-treated wood is the cheaper option in the beginning, over time the maintenance needed will begin to add up. Wooden decks require constant care including sanding and painting or staining in order to hide any aging of the wood and prevent problems. Not only are you paying to make sure your deck continues to look good, but for the safety repairs due to splits, cracks and splinters, as well as damage caused by any pesky insects.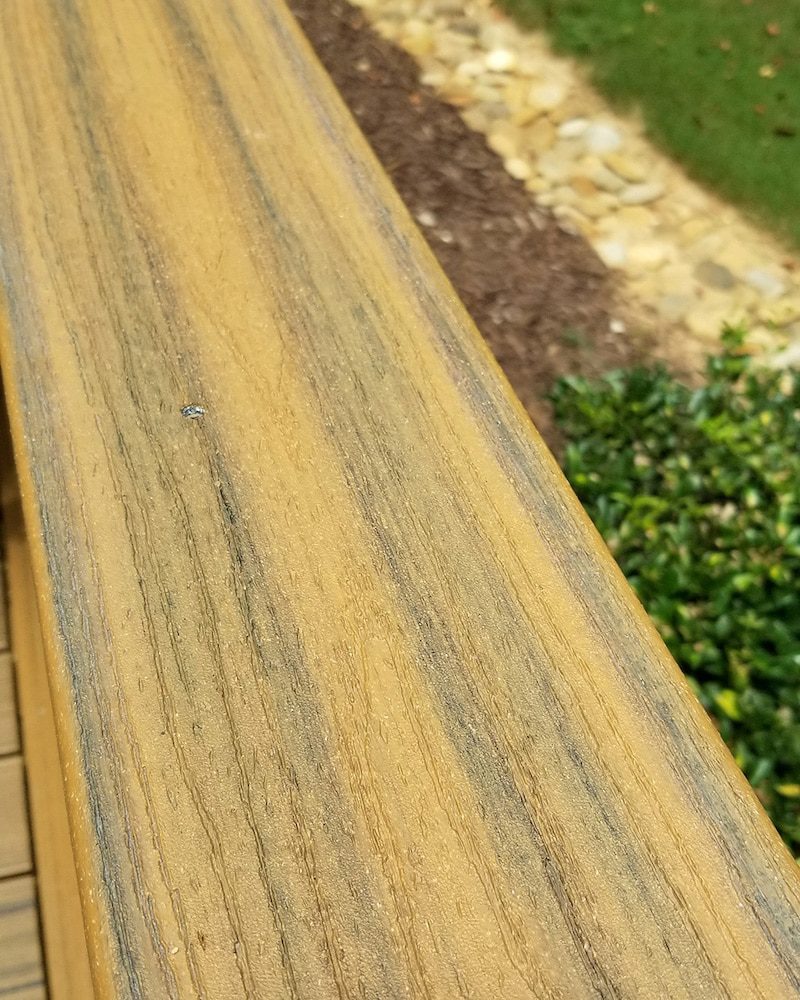 On the other hand, composite decking only requires a little soap and water or a quick pressure washing for cleaning. Plus it's termite proof! Trex even guarantees that after 25 years your decking will still look and feel great. Overall, Trex composite decking is more durable and longer lasting than any pressure-treated wood decking option.
Surface Temperature
Even though Trex composite decking has many safety advantages compared to regular wood decking, the downside is that it may get hotter than pressure-treated wood if in a position that receives direct afternoon sunlight.
For homeowners who are apt to walk around their deck barefooted or have small children who may sit and play on the direct surface, you may want to consider roofing or a type of porch covering that will help eliminate the amount of sunlight that hits the deck. For roofing, a contractor could connect the already existing roof of your home to the roof over your deck for a consistent, effortless look.
Eco-Friendliness
Trex has eliminated the use of harmful chemicals in their manufacturing process as well as reclaiming factory waste and is made with 95% recycled materials. Using reclaimed wood that would be sent to a landfill saves more trees from having to be cut down for their high-performance decks. A win-win for the environment.
Pressure treated wood and wood that is more prone to water resistance such as cedar or teak do remove trees from the environment. Trees that have higher water resistance are typically denser and take longer to mature, so their use as decking material is not as environmentally friendly.
Color
Many natural color options are available that resemble painted or stained wood. Trex fade-resistant coloring is also tinted throughout the entire board which helps to minimize any notable surface scratching.
If you're looking for a very specific color match or want practically innumerable paint color choices, a pressured treated deck would have more flexibility in color paint or staining options even though it would require more upkeep over the long term.
Trex composite decking has many perks and can be worth the price you pay for a hassle-free deck in return. You are getting the same natural beauty and feel without nearly as much upkeep.
Here at Tracy Tesmer Design/Remodeling, we highly recommend Trex composite when installing a new deck, if budget allows.
For more information on Trex decking and designing your new deck or screened in porch, contact us today. A Tracy Tesmer Design/Remodeling professional can help you with design and in determining what type of decking can help to meet your wants and needs for your home.