Design Tips for Your Bathroom
If you think about it, we spend more time in the master, hall and half baths in our homes than we probably realize. The bathroom tends to be the first and last room you use at the start and end of each day and it's the room most often seen and used by any visitors to your home. Because they get so much use, these rooms in your house run a higher risk of looking run down. However, with a careful eye trained on both design and function, you can transform your dulled bathroom into an artful masterpiece. The hardest part of redesigning a bathroom can be narrowing down all of the ideas you may see online. To help jump start your brainstorming sessions, we have compiled a helpful list of some bathroom design tips and ideas for you to consider:
Quick-Fix Bathroom Design Considerations
Mirrors: Mirrors are an important element of bathroom design that can completely alter the look of the room. You can use mirrors to add depth, décor, and even the illusion of more space to a small, dull looking bathroom. We recommend complementing or matching your mirror, vanity hardware and lighting of the room to create a more well put together and harmonious look. If you are trying to do a quick upgrade without taking on an entire remodel, consider adding custom mirror frames from a company like MirrorMate or looking at home stores in person or online for an off-the-shelf option that is more a reflection of your own personal style.
Accessories:

Accessories selected especially for a bathroom can help to take away the cold, hard look often found by an emphasis on functionality. You might want to select plush rugs, elegant window coverings, artwork, comfortable furniture, or flowers to add warmth to your space. You'll be amazed at how much small touches like these can do to enhance the room you visit first every morning.
Flooring: Flooring is an important design element that often gets overlooked. Flooring such as ceramic tiles add a beautiful accent to any room and you can even install radiant heating under flooring to keep your feet warm on those cold winter mornings. Beyond mirrors and accessories, your floor is an area in your bathroom that can easily be upgraded without changing major fixtures such as showers, vanities or tubs.
Lighting:

Decisions on the type of lighting is an important, yet often overlooked, part of your bathroom. To start, if you have that yellowed fan/heater/overhead light stuck up in the middle of your ceiling, then it's time to make a change. I recommend using soft light over the bath, which can be achieved with a wall dimmer connected to any lighting. For the vanity, there are hundreds of different wall sconces from which to choose. A sparkling chandelier overhead can add a special touch of luxury, especially placed over a freestanding tub. Recessed LED's brighten up the room without being obtrusive.
Long Range Bathroom Design Considerations
Bath Tubs: If you're the type of person who likes to take long soaks in the tub, a classic clawfoot bathtub might be a good choice for you. They can add a real sense of classic charm to your bathroom while providing you with a comfortable place to relax. Bath lovers should also consider jet powered or soaking tubs which give you a great way of relaxing after a hard day at work or a tough afternoon workout.
Showers:

If baths aren't your thing, not to worry. A while back, we wrote on whether bath tubs were necessary in a master bath. Spoiler alert: you don't stick one in just to please the next homeowner! For you shower lovers, the trend these days is for clean lines with frameless glass shower enclosures. Also popular are customized showers with multiple spray heads in addition to the standard shower head and handheld wand.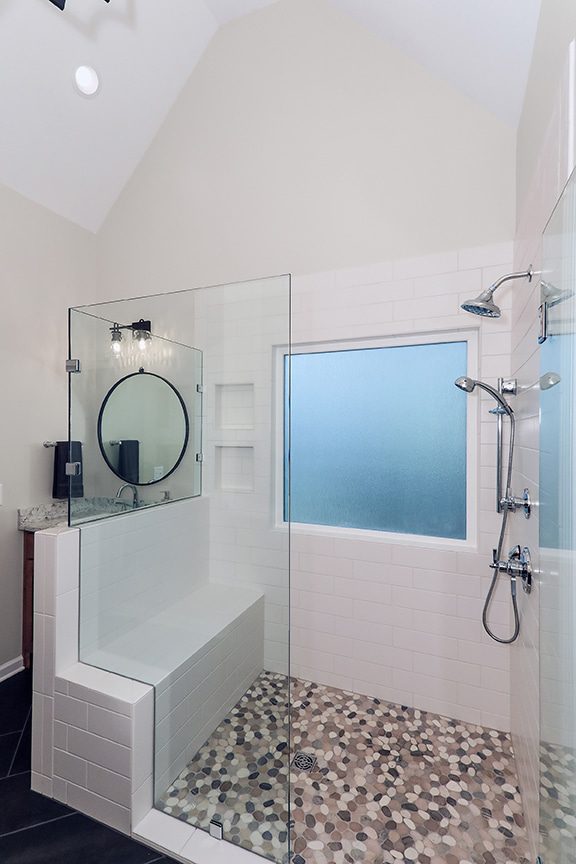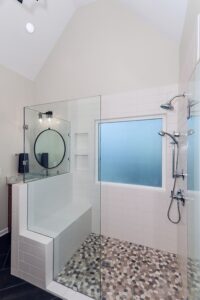 Transforming your cold, dreary bath into your own personal sanctuary may not be easy. However, if you remember to add elements of comfort and practicality, coupled with elegance and luxury then you will be excited to get out of bed every morning!
If you're considering a more extensive bathroom remodeling project, our professionals are ready to help. From evaluating your space to design and the actual build, trust the experts voted "Best Kitchen/Bath Remodeler."