Five Can't Miss Features for Your Kitchen Remodel
When it comes to a kitchen remodel, there are endless opportunities to make this space your own. To help with this effort, we have zeroed in on five areas you shouldn't miss when planning a kitchen renovation. Take your kitchen from standard to exemplary when remodeling these stand out areas.
5 Popular Kitchen Remodeling Elements
Islands
Great for gatherings as well as functional mainstays, an island can be the perfect centerpiece for any kitchen. Adding or even upgrading a current island will enhance your kitchen experience. Kitchen islands can be as versatile as you need, small to large. Built in cabinets, drawers or shelving create additional storage. A countertop overhang allows for more seating.
If you are looking to incorporate an open floor plan concept, a kitchen island can also help visually delineate yet still connect your kitchen to the living room, creating a large space to entertain and spend time with family. We work with many clients who add a stovetop, main sink, or prep sink to their island to create a unique combo fit for their specific needs. Overall, the kitchen island remains one of the most popular features to incorporate or update in your home. We promise you won't regret it!
Countertops
Beautiful countertops leave an impression. When remodeling the kitchen, updating your countertops can provide an eye-opening facelift, even if this is the only update you plan to make. There are all kinds of options when it comes to countertops (you can read about them and their various pros/cons here), but today we'll focus on what has fast become one of the most popular materials – quartz.
Quartz has begun to give the past favorite, granite, a run for its money due to cost-effective pricing, design and function-friendly features. A quartz countertop will help keep your home up-to-date and trendy for family gatherings, plus it is durable and relatively maintenance free to maintain over time.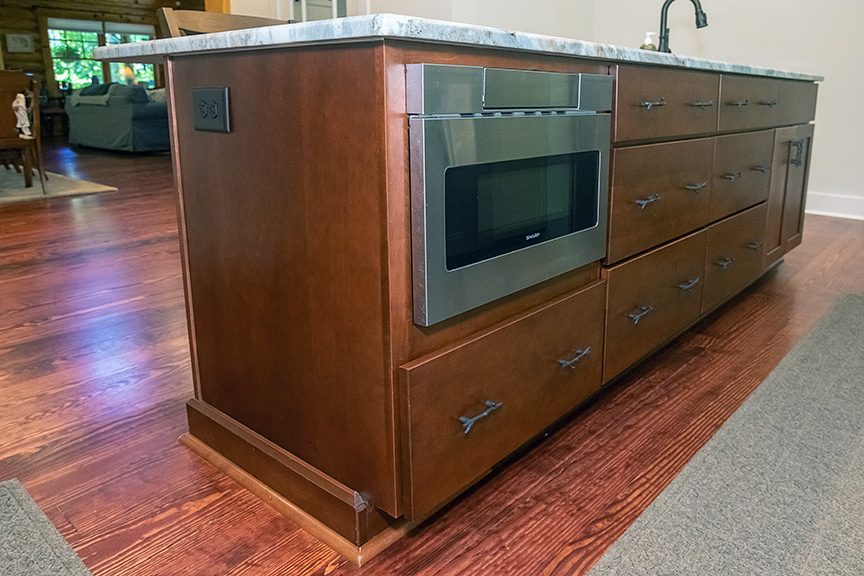 Enhanced storage
Who doesn't love storage space? Sometimes adequate storage is hard to come by, especially in older homes. In current home designs, we recommend the option of including deeper drawers to accommodate larger pots, pans, and appliances. With this, you don't have to worry about cramming or stacking multiple items in one area with awkward hard-to-reach cabinetry shelving. Dividers and sliders are also great to transform drawers based on your specific needs.
Don't forget to include hideaway pull-out trashcans; these are perfect to incorporate into your island or a lower cabinet near the sink to keep an unsightly and smelly trashcan from being out in the open. They also come in handy when it comes to separating the garbage from the recycling. When you take the time to consider your storage options at the beginning of a remodeling project, it will help you become more efficient and organized for your everyday life.
Cabinets
Whether you want to fully redo the current cabinets that you have or update them if they are in decent shape, there are an abundance of options for your home. Custom and semi-custom cabinets give you the ability to create a completely new layout or modify a specific layout you currently have. This includes incorporating well-fitted spaces for any appliances that you currently have – or plan to add – to your kitchen.
If you are just looking to focus on the appearance as well as save on cost, then painting and switching out hardware may be for you. Whatever you choose, don't forget to consider the cabinets, since they take up a fair amount of real estate in any kitchen.
Lighting
Lighting sets the mood for any space. Depending on the type of atmosphere you would like to evoke, lighting and fixtures can strongly influence the décor and appearance of your kitchen. Appropriate lighting affects how comfortable you are working in and spending time in the room as well.
Focus on function, such as under cabinet lighting and bright overhead fixtures. You can also incorporate lighting for specific areas and dark locations. A dark kitchen may seem small or cause eye strain when working with detailed recipes or that work from home at the kitchen table. Kitchens have safety concerns that are easily addressed with lighting such as being able to see well when cutting with sharp knives, moving around the kitchen with hot food items and seeing accidental spills in order not to slip and fall on the floor.
Kitchen sink lighting helps you see your dishes late at night or creates a calm ambience for early morning risers. Next you should move into finding your style of fixtures (don't be afraid to mix and match here). Consider a statement piece to place above your kitchen table or pendant lighting for an eye-catching island.
At Tracy Tesmer Design/Remodeling, we are the kitchen design/build experts, voted "Best Kitchen/Bath Remodeler" year after year. We can help you upgrade specific areas of your kitchen or manage a complete remodel from floor to ceiling and everything in between. Call or email us today for all of your home remodeling needs!