How to Get the Most ROI From Your Home Remodel
There can be a lot to consider when renovating your home. Knowing what changes will add the most value to your home, especially if you choose to sell it later, can help you prioritize your remodeling goals. Here we outline ways you can get started on your remodel and get the home you've been wishing for now, while also increasing the return on your investment.
Smaller Changes with Bigger Impacts
Painting vs. Pressure Washing
Whether painting the interior or exterior (or both!), you can increase the value of your home. According to Consumer Reports, painting interior walls will help your home's value increase 1-3%, while painting your home's exterior can increase the value 2-5%. Painting also helps a home to feel cleaner and makes its best features shine.
If exterior painting isn't necessary and you'd rather put the money elsewhere, you might consider whether a solid pressure washing could help achieve similar results. Pressure washing may be a better idea, especially if you're about to sell your home. You could then allocate money from your remodeling budget to an item with a higher ROI.
Landscaping
Whether you have the budget for an extensive redesign and planting of your yard, or top dressing what you already have, a little goes a long way regarding curb appeal and landscaping. No matter how amazing your home interior may be, the exterior gives a visitor the first impression. Outstanding landscaping can get you 5-12% more for your house at resale.
Replacing dead plants or grass, removing weeds, putting out mulch, pruning large dead tree limbs and removing dead trees will go a long way to create an appealing landscape. You can easily add a variety of smaller perennials that are easily maintained to add a little color and life. A tidy and safe yard leaves room for potential buyers to dream of possibilities instead of immediately throwing red flags of possible poor interior upkeep.
Entryway
It's a tried and true strategy to paint your entry door an inviting color that welcomes guests or prospective buyers. An easy job that you can do yourself if desired, it is one of the most easily achieved for a large return. For deteriorating or old looking steps and doorways, consider updating or adding an entry porch, gabled roof, side lights or attractive new door for a beauty of form as well as function for everyday use.
Update or Replace
Flooring
Replacing or refinishing old floors can have a huge impact on the resale value of your home. There are many renovation options available when it comes to home flooring. If you have wood floors and choose to refinish them, you can expect to get back 100% of that investment. For brand new flooring, the numbers are closer to 90%. If there's a choice between replacing your old carpeting or letting the hardwood floors under it shine, go with refinishing those hardwood floors. Buyers have their eye on hardwood flooring, and refinishing it will add a huge selling point to your home.
If you want to add hardwoods but simply can't afford the cost for the whole house, choose to vary the flooring by placing hardwoods in often used living spaces, carpet in bedrooms and a more moisture resistant flooring in bathrooms.
Kitchen and Bath Materials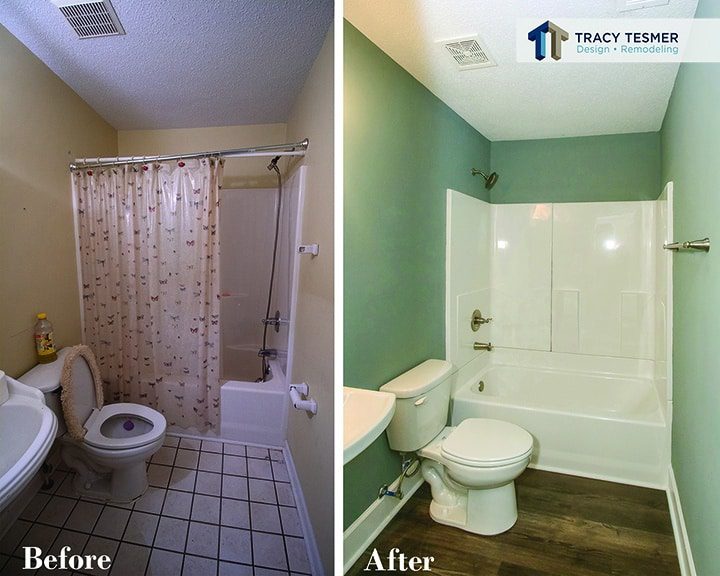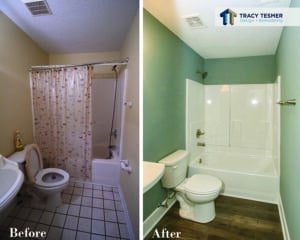 If your kitchen and bathrooms are outdated, it might prevent your home from reaching its highest value on the market. Smaller to mid-range kitchen and bath remodels typically recoup 81% of cost in added value. Changes like replacing outdated cabinet knobs and drawer handles are inexpensive updates to include with polishing or painting cabinetry if they are still in good condition. Replacing cabinets, updating countertops, sinks and faucets, and energy-efficient appliances along with flooring also hold that value.
For both rooms, consider replacing the light fixtures, which are often affordable and add a whole new ambiance to a room.
Low Maintenance and High Efficiency
Value is automatically added to your home if you replace aging large-scale items so future buyers would have peace of mind. Water heaters, HVAC, siding and roofing are examples that can help buyers feel more confident in their purchase and return your investment on your monthly energy savings as well as for a future home sale.
Remodeling your home can return your investment in the long run when chosen wisely. No matter your remodeling goals, we can tailor specific designs to meet your vision and budget. Contact us today!