Halloween Decorating Tips
Fall is in the air and Halloween is right around the corner. Whether you put out a simple pumpkin or go all out with your own spooky haunted mansion designed to scare the local kids, we have come up with some simple Halloween home improvement ideas that are guaranteed to delight — and fright — this Hallow's Eve.
Halloween Decorating Ideas
Below we have compiled a list of great and cheap do-it-yourself Halloween home improvement ideas that you can tackle over a weekend to bring a little fright into your life. From spooky doorways to ghoulish garages, we have you covered when it comes to decorating for Halloween!
Pumpkin Decorating
Pumpkins are the quintessential Halloween decoration, and you would be hard pressed to find a house that didn't sport a hand-carved pumpkin on its doorstep come October 31. And while carving a bat or kitten face into your pumpkin is all well and good, why not go the extra mile and put some pizzazz in that gourd?
For starters, don't limit yourself to just pumpkin carving. Butternut and spaghetti squash make excellent carved artwork. And don't get stuck in a rut of thinking that you have to stick to one or two pumpkins. Plenty of great doorways feature multiple pumpkins — carved and uncarved — designed to create a themed scene or setting. Let your imagination run wild!
Finally, while carving is a great tradition, don't be afraid to think outside the box and use paint or foam materials to decorate that big orange ball.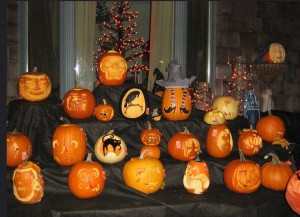 Spooky Lanterns
Another great and simple decoration you can create involves (preferably) empty tin cans, something to punch holes, and a little imagination. Remove the labels from the cans, make sure they are cleaned well and punch holes in them, making festive designs. Carving words, such as, "Boo!" or scary images of ghosts or witches adds a nice touch to any Halloween scenery. Place an electric candle inside the tin can and it creates a spooky ambiance as it shines out of the decorative holes you punched, while providing light for trick-or-treaters to see by.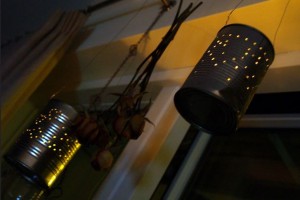 Simple DIY Gravestones
Finally, what Halloween scene would be complete without a set of gravestones in the front yard? All you need to make this simple DIY Halloween decoration is some wood or foam, paint and something to shape the material with. Simply cut out the shape of a tombstone, apply a coat of gray paint (or a dull white) and wait for it to dry. When the paint has dried, write something witty or put some memorial text on the tombstone. If you are truly artistic, you can use some aged painting techniques to make your creation come to life.
Even if you aren't the next DaVinci, however, a simple coat of paint and a clever name will add some dark humor to your Halloween decorations.