Hearth and Home: Adding or Upgrading a Fireplace
Since the beginning of time, fire and a hearth have been at the center of human experience; there is something deep within us that needs and celebrates the dance of flame in our lives. It was not until the 20th century, with the advent of central heating, that homes were built without some sort of fireplace in at least one room, and often in every room.
While we no longer depend on fireplaces as the primary source for heat and cooking (thank goodness!), many homes continue to incorporate them into their design. The presence of fireplaces today is not focused on survival but on the aesthetic, comfort and decorative desires of homeowners, and which is why fireplaces continue to be popular. There is, after all, something relaxing and "cozy" about sitting around a fire.
Types of fireplaces
With the new emphases on aesthetics and décor, the fireplace has evolved more in the last 50 years than ever before, not just in terms of shape and function but also in how the effect of fire is achieved. Traditional fireplaces that burn wood remain the most popular (can you really beat the crackle of a wood fire?) but the downsides of fumes, smoke and mess have led to several innovations that can evoke the sense of a wood fire without actually burning logs.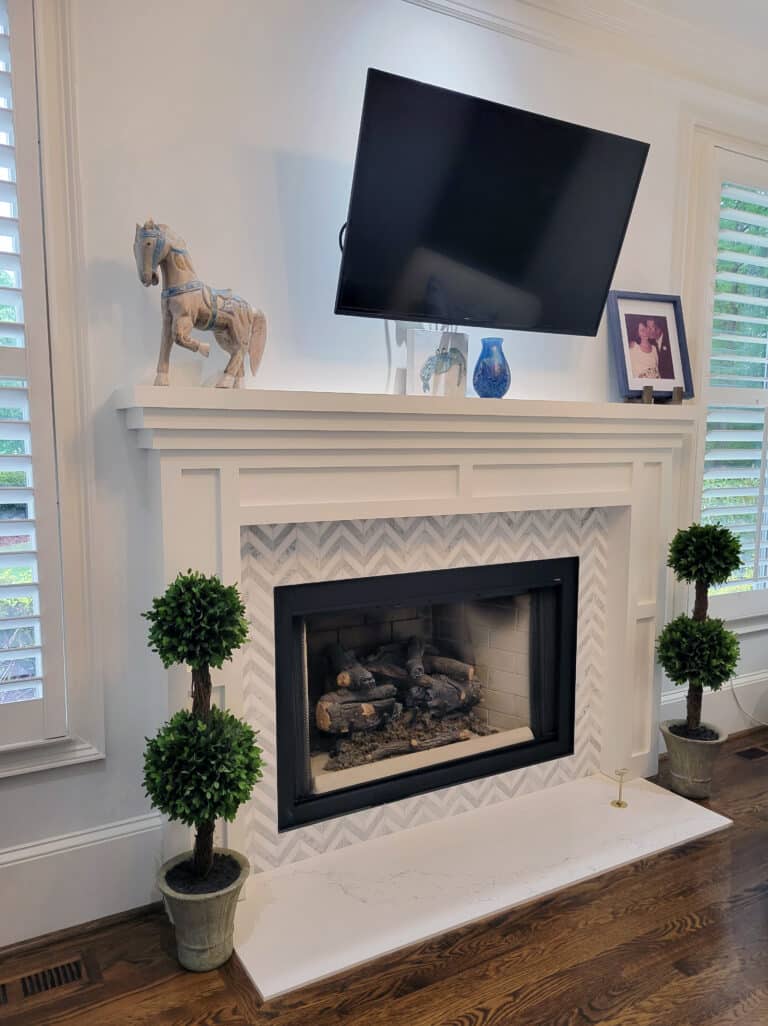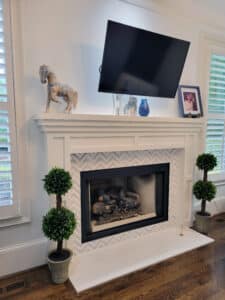 Increasingly common are gas fireplaces, relying on natural gas as a source of fuel with faux "logs" that appear to be aflame but are not consumed. The advantages are that a fire doesn't depend on a dry supply of wood, they can be started with the flick of a switch, and are still real flames that give off heat. Oh, and there's no ash to clean out of the hearth!
When considering options, be aware that there are still some fumes and the gas lines must be installed from the fireplace to the gas source, which could increase cost and complexity of the build or remodel.
A new product on the market is the electric fireplace which is an affordable, eco-friendly, put-anywhere option. These use LED lighting and built-in heaters to mimic the look and feel of an authentic fire and can be plugged directly into an outlet or hardwired into your home's electrical system. They also do not require an exhaust outlet or chimney like a wood burning or gas fireplaces do. 
The fire ribbon, a "minimalist" gas-powered flame, has become popular in the last few years. Rather than a traditional look, the fire ribbon creates a flame base that has shorter flames in a longer linear area. The smaller vertical size allows fire ribbons to be placed in smaller spaces or open areas.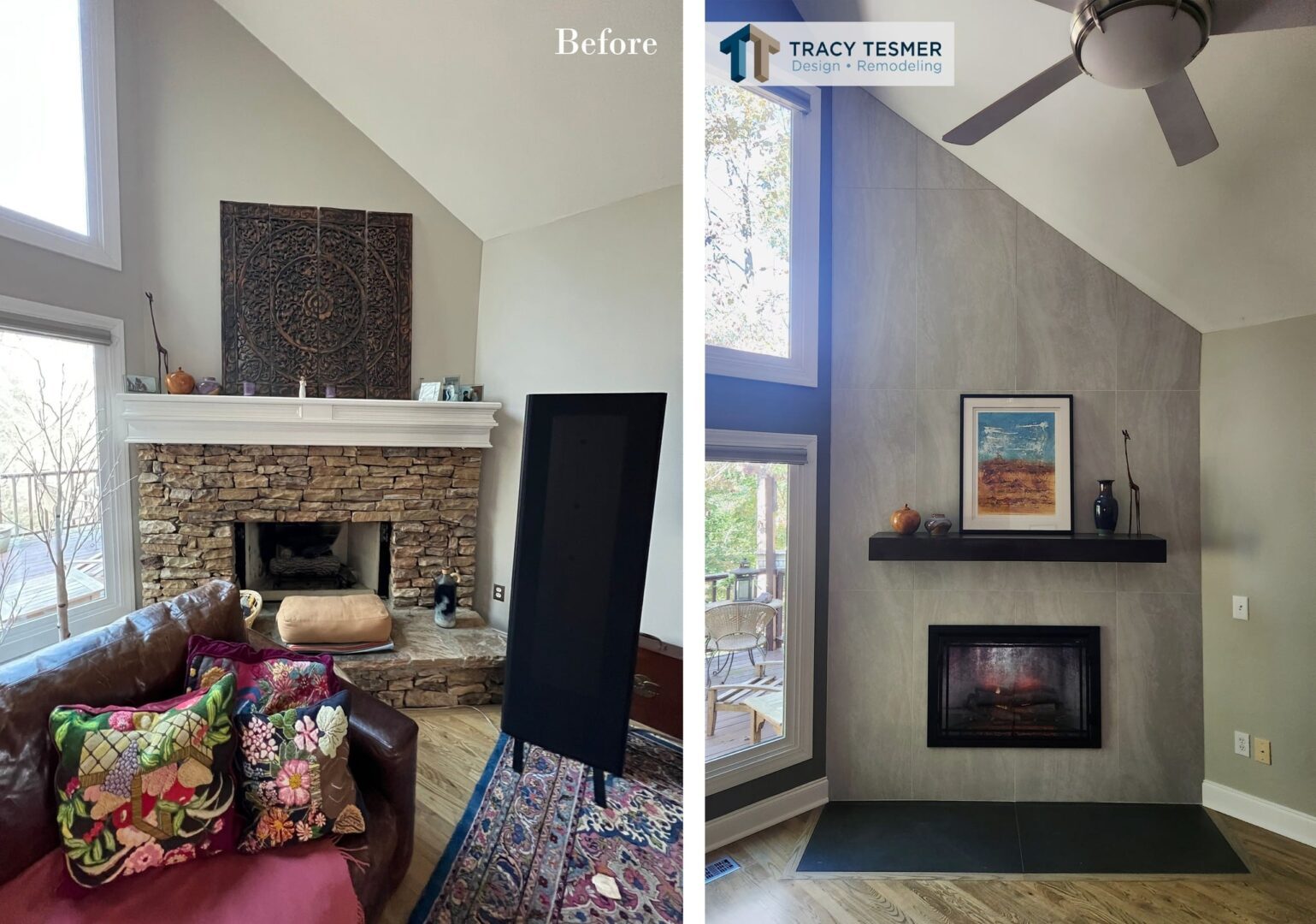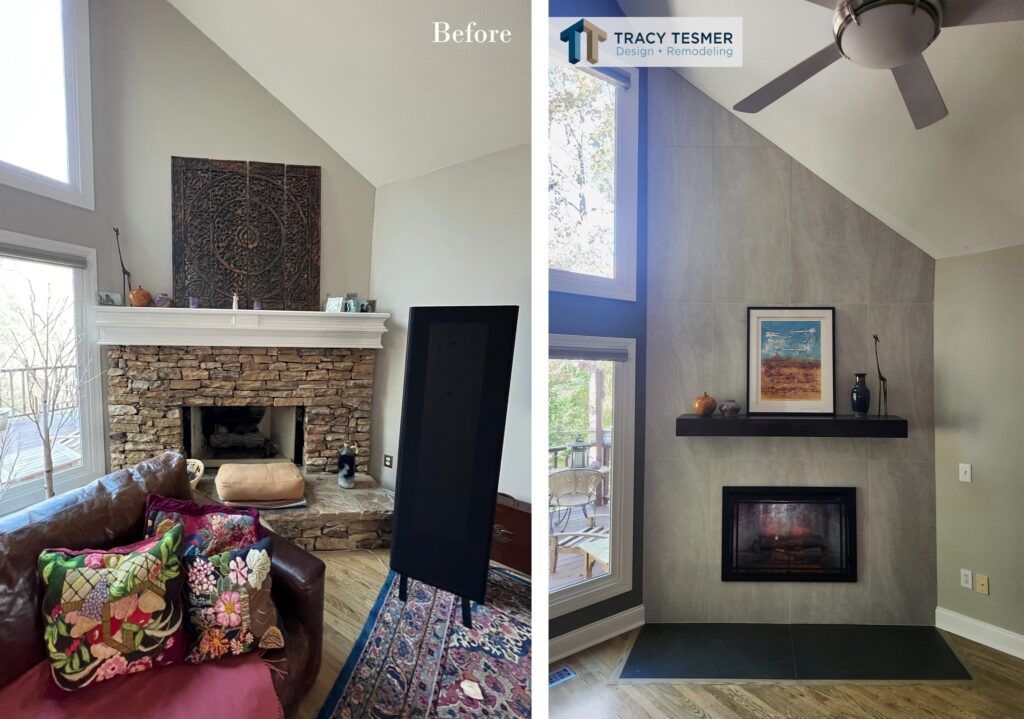 Indoor fireplaces
Modern indoor fireplaces are usually located in the living or family room in a way that makes them the focus of the room's décor. There are almost infinite options of surrounding materials ranging from traditional brick and natural stone to ultra-modern with tile, quartz or granite. Building a new home allows you to pick and choose, but the fireplace in an existing home can usually be renovated to suit your needs.
In a contemporary home, with our focus on television viewing, one of the trickiest decisions is where the fireplace and TV should be placed in relation to each other. With the fireplace usually being the architectural center of a given room, finding a convenient and viewable spot for a 50-inch or larger screen can be a real challenge. These issues need to be considered carefully before any building or remodeling takes place. One solution is a remodel that incorporates a large screen and smaller fire source, such as a fire ribbon, on the same wall.
While fireplaces in the living room are the most common (and usually only) location in modern homes, bedroom fireplaces have become a highly desirable upgrade. While installing a fully traditional wood burning fireplace in a bedroom is often possible and can give you that super-cozy feeling as you drift off to sleep on a crisp fall night, it can be a complex and expensive process. However, for the bedroom a more cost-effective and safer option could be an electric fireplace.
Outdoor fireplaces
Installing a fireplace outside can add a fantastic vibe to an entertainment area, patio, poolside, or a tucked-away relaxation spot. The mechanics of outdoor fireplaces allow for much simpler, and even larger, designs. There are fewer (if any) concerns as with indoor fireplaces concerning venting/chimney paths, gas lines, excessive ambient heat transferred to nearby walls or furniture, and fuel storage. Good planning can even create a fireplace not just for ambience and heat, but also as an outdoor kitchen complete with baking oven. Outdoor fireplace design usually limits materials to brick and natural stone as they can withstand the elements and temperatures more effectively.
As mentioned above, ribbon fireplaces also are increasing in popularity and their flexibility allows them to be implemented outdoors in a wide variety of ways, such as along a stone ledge or inside a stone table surrounded by seating.
Removing or converting a pre-existing fireplace
There are times and circumstances when the needs of families and their living spaces evolve beyond the desire or requirement for a fireplace where one already exists in the home. If your fireplace doesn't work or you don't use it regularly, that's a lot of valuable space that could be used to better purpose.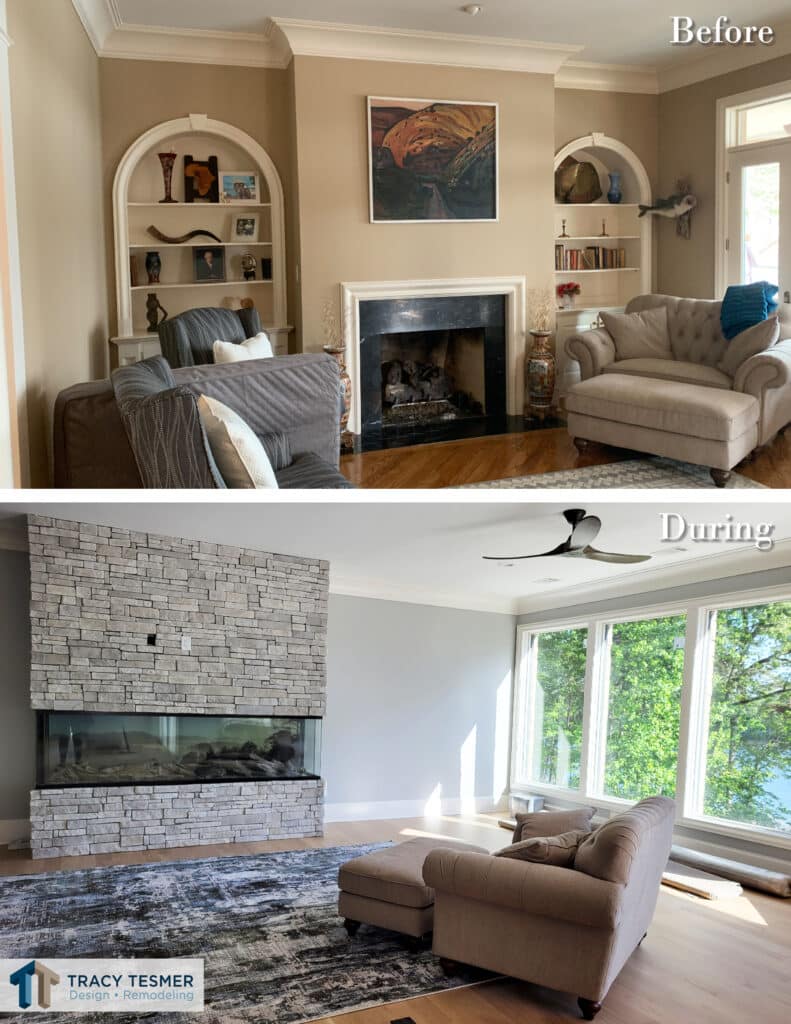 Sometimes local regulations may disallow wood fires, or a family member may develop asthma or other respiratory issues that make having a fireplace an ongoing health concern. Regardless, there are many opportunities when removing or converting a pre-existing fireplace. The space itself can be repurposed with little change, or it (and the venting system) can be totally removed to make more storage space or even add some windows.  Whatever the reason or whatever the goal, making such a strong architectural change to your home is not an easy decision, and not an easy project to undertake without professional help.
Ask the experts for help
Fireplaces are a great amenity for almost any home and typically increase the resale value of your investment. Whether you're building a new home or renovating an old one, you can't go wrong with a hearth for your home!
If you decide to add a fireplace to your home, or renovate an old one, Tracy Tesmer Design/Remodeling can help you with every step of your remodel, whether large or small. To begin your renovation journey today, send us an e-mail or call 678-450-1700.