Home lighting types and trends
By Sara Bagwell
One of the most important aspects of interior design, in my opinion, is lighting. Home lighting can set the tone, both literally and figuratively, for a room. Lighting can add style and function to your space.
Home lighting types
There are three main categories of lighting when it comes to home design: ambient, task, and accent lighting. Ambient lighting refers to soft, natural lighting that allows you to see in a room but is not quite enough for tasks that require extra focus or precision. Ambient lighting is also known as "mood lighting." Task lighting is more focused, bright lighting that is used in areas where more attention is required, like a kitchen. Accent lighting is used in a space to help illuminate corners or otherwise shadowed areas or accent specific features in a home; because it doesn't offer a lot of natural or task lighting, accent lighting can also sometimes be used purely for design or decoration.
Ambient
Ambient lighting can be used in areas all throughout your home, and offers a warmer, more natural light. Chandeliers, pendant lighting, recessed lighting, ceiling and wall-mounted lights can all be considered sources of ambient lighting. Dimmers are often added to these fixtures so that the ambience of the room can be adjusted, as needed. Think about your kitchen for a moment. The ambient lighting would include the pendants over your island, a center ceiling fixture, or even recessed/can lighting. Although these fixtures help add a design element and natural light to the space, they are not ideal for reading a recipe or food labels.
Task
Task lighting, on the other hand, does give you the light you need to read those nutrition labels or Blue Apron instructions. Task lighting is bright light that really illuminates your space, allowing you to read and work easily. Task lighting can include recessed lighting, under-cabinet lighting, vanity lights, swing lamps, and track lighting. Swing lamps and track lighting can be angled to brighten a specific area in which you are working, and under-cabinet lighting adds visibility to your countertop work area.
Accent
Accent lighting is more focused light that draws your eye to a particular area of a room or wall. Accent lighting is the type of lighting used in museums to highlight display cases or artwork. In your home, accent lighting can be used the same way, in bookcases or cabinets, over wall art, or in a reading nook. Accent lights include lamps, wall sconces or spotlights, recessed lighting and track lighting. Accent lighting, as mentioned previously, can also be used as decoration or to enhance your home's style. That may include a handblown glass ceiling fixture that's more of a piece of art or a unique floor or desk lamp that helps give your room a unique focal point.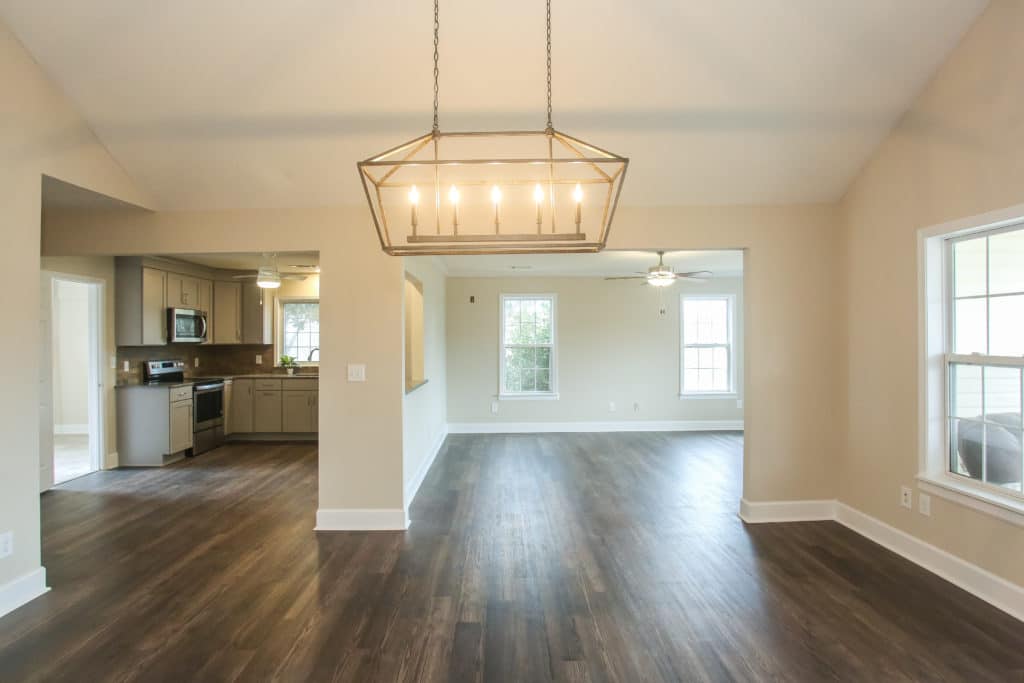 Lighting plays one of the most important roles in the design of each room of your home. While it's important to have both ambient and task lighting in areas like a kitchen or bathroom, you primarily will only need ambient and/or accent lighting in your bedrooms and living room where you want to create a feeling of calmness and relaxation. Recessed lighting is one of the most versatile types of lighting, as you can tell since it falls into all categories of lighting. As mentioned before, recessed lighting on a dimmer switch can be turned up to create task lighting or down to create mood lighting. There are also eyeball and small-sized recessed lights for more focused light in accent areas.
In design, we see a major trend of clients wanting to add recessed lighting throughout their home for the versatility. Even in bathrooms, a recessed light can add much needed light over a shower or bathtub, or other poorly lit areas. Recessed lighting in a kitchen gives you more evenly dispersed lights, as opposed to just one centrally located fixture. While recessed lighting is a great addition to nearly any home, it's also still crucial to balance these out with hanging and wall-mounted fixtures and lamps to bring personal style and design to a space.
It's important to have a plan when placing lighting throughout your home to make sure you are getting the benefit of the best light in the right places. Working with a professional to create a lighting plan for your new home or even to replace old, dated fixtures in your existing home is an important step in a remodel. Lighting can make or break a space, so it's important to get it just right!
Sara Bagwell is a designer for Tracy Tesmer Design/Remodeling in Gainesville. This article originally appeared in Lakeside on Lanier's May 2020 edition.