How to know if it's 'island time' in your kitchen
With kitchens growing larger and open concept spaces becoming more popular, it seems as if the kitchen island has become an essential part of many homes. However, that does not mean every kitchen is the right fit for a kitchen island.
If your kitchen is on the smaller side a peninsula or even a mobile island may work best for your needs. While a kitchen island can be nice for extra seating, it can also hinder function if your kitchen doesn't allow space for one.
If you are trying to decide whether an island is the right decision for you, consider some of these reasons why you should go "island-free."
Disruption in Room Flow
An island may disrupt the flow of your kitchen. It may disturb the "work triangle" concept. This is where the three most visited spots in the kitchen make up the three points of a triangle – sink, refrigerator and stove. This age-old concept is meant to maximize flow and efficiency. Kitchens are now more thought of as having zones. These zones really depend on how each family utilizes the spaces within their kitchen which is why we at Tracy Tesmer Design/Remodeling like to make our kitchen remodels as unique as the client themselves. If adding in an island doesn't flow with how you work in the kitchen then it may not be the best fit.
The standard recommendation is for a kitchen to have at least 42 inches of space between the base cabinets and the island. A home with multiple cooks in the kitchen should consider 48 inches of space in between. You may be wondering why there needs to be so much space, but it's because a kitchen island is meant to be a working area. If adding a kitchen island will become a nuisance in your space, then there is really no need for one. You don't want the heart of your home to feel cramped and overwhelming. So, don't force an island to fit if it's not in the best interest of your space.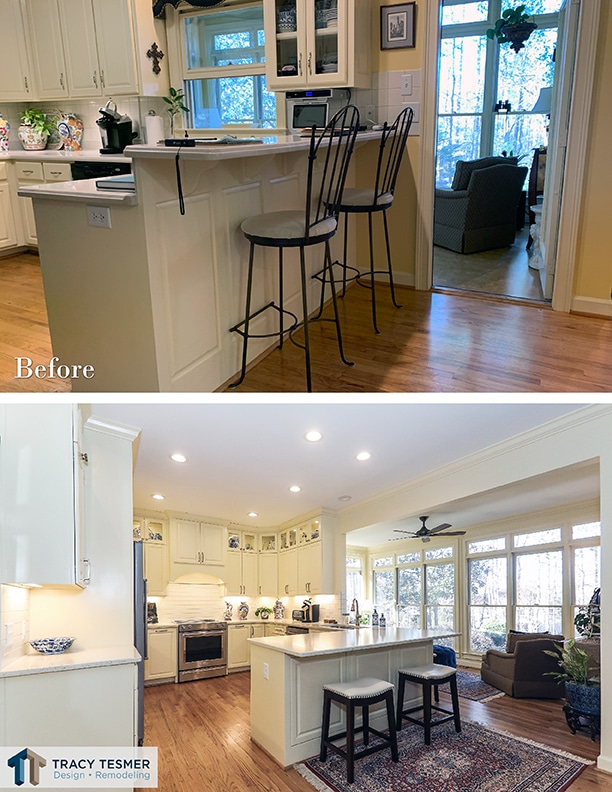 Instead, you could add a narrow, long table or a peninsula in your kitchen to still add more counter volume while keeping the center of your kitchen open and spacious.
Visually Weighs Down Your Space
Having a giant island in the center of your kitchen can become pointless if it isn't being used regularly. Sometimes, these large islands become a space for dumping, piling and adding more clutter into your kitchen. Kitchen counters are already a hassle to keep clean with all the daily activities that can go on within this space. If adding another large counter area will just create a cause for more cleaning, then why add one. Or decide on a portable island that can easily be pushed to the side of the room when necessary, which allows you to use the space in several different way maximizing functionality.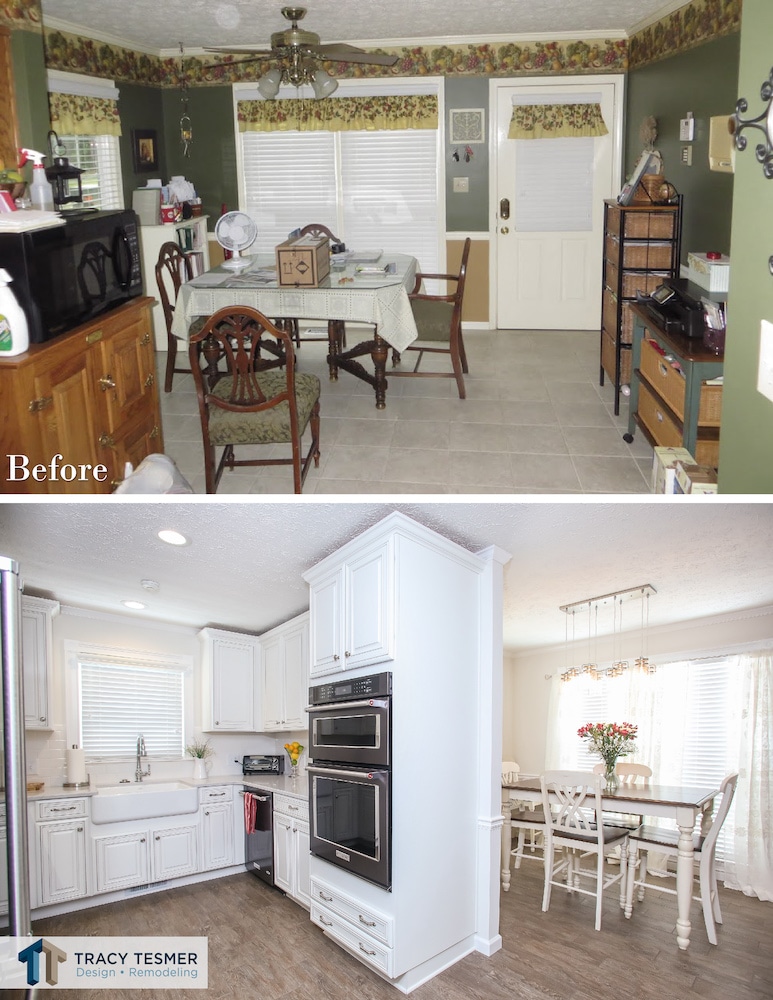 A lot of times keeping a space simple can make it appear larger than it actually is. Don't feel the need to visually weigh down a smaller kitchen by adding an island just because it seems to be on trend. The kitchen often feels like the heart of the home. It brings family together and must allow space for it to be lived in. Before deciding on a kitchen island, think about how you use this space and if an island will aid or hinder your interactions within the kitchen.
Is it Within Your Budget?
Adding a kitchen island will vary in cost depending on what you want it to include. Things to consider that can quickly add to the price tag include cabinetry, countertops, appliances, plumbing and electricity if you're wanting to add a sink or stove top. Consider your budget before deciding whether to move forward with a kitchen island. It may add an unnecessary layer of costs to your remodel when an island is not particularly needed.
Remember – every kitchen is unique! While you may be able to renovate your kitchen to replicate one you loved when you saw it on your favorite home design show or magazine, certain features may not actually fit your space or lifestyle. Design-build experts like the team at Tracy Tesmer Design/Remodeling will meet with you, walk your current space and discuss your list of "must haves" for your new kitchen.
Considering remodeling your kitchen? The professionals at Tracy Tesmer will be happy to discuss options for kitchen islands and beyond that will keep your kitchen fresh and functional. Call today!