Ideal flooring options for lake living
Of the many things to consider when building or renovating a home on the lake, one that is often under appreciated if not overlooked, is the importance of what's beneath your feet. Let's face it, when you own a home on the lake, chances are you or your guests are going to be spending some time on the water. Inevitably damp feet and soggy swimsuits will make their way back inside.
To help problems associated with wet floors, consider these great flooring options for the areas of your lake home that tend to see more moisture such as kitchens, bathrooms, laundry rooms and basements.
Tile
Tile is one of the most popular flooring materials for homes on the water. Many tile options – and there are more options today than ever before – are beautiful, durable and economical. Choose from attractive, unique styles that are resistant to scratches and water damage such as:
Wood-look tile
Uniform patterns (stone and ceramic)
Non-uniform patterns (stone)
Molded (uniform edges)
Handmade (sometimes non-uniform edges and textures)
Custom (relief work, non-standard designs, etc.)
Another bonus – tile flooring is easily maintained, cleaned and hard-wearing. Be sure to talk to a design-build expert about the best styles to suit your tastes and home, and don't forget to ask about non-slip additives for any tiling that may become slick when wet.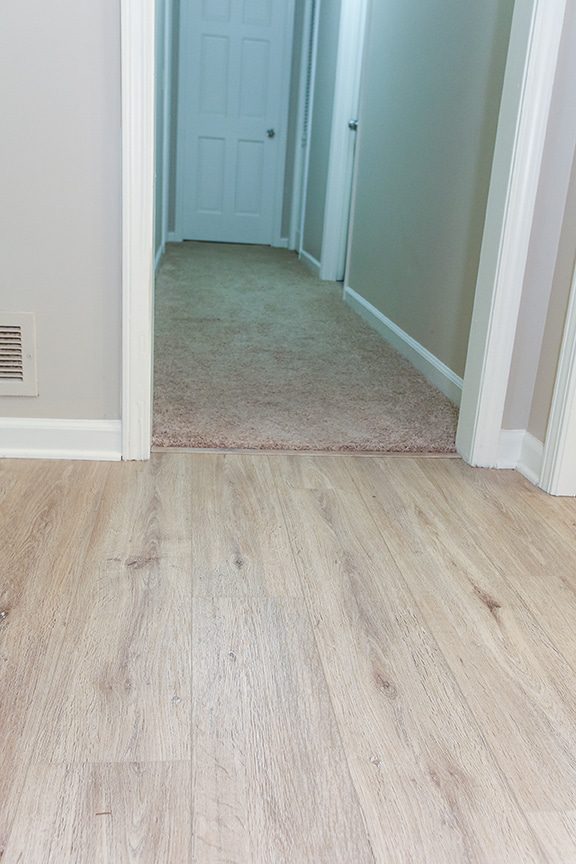 Vinyl
Vinyl isn't what you may remember from your childhood. Waterproof, easy to clean and dent-resistant, today's vinyl options can mimic hardwood, stone or tile without sacrificing comfort. Solid vinyl tile (SVT), luxury vinyl tile (LVT) or luxury vinyl plank (LVP) have very realistic appearances and perform better than other flooring styles, as they stand up against wear and tear and can be easier to install. Vinyl is a viable option for those who want the durability and moisture resistance of tile but are looking to stay within a smaller budget.
Additional options
Just because we didn't highlight certain flooring types here as the ideal option for lake living doesn't mean they have no place in your lake home. However, certain materials should be kept away from areas prone to moisture or humidity fluctuations.
Hardwoods – Hardwood flooring is popular in lake homes, especially on Lanier thanks to its proximity to the foothills of the Appalachians. After all, who wouldn't love a mountain lake home? Hardwoods not only convey that ambiance and add value to your home, but they are durable and attractive. When incorporating hardwoods in your lake home, stick to areas where moisture should be at a minimum, such as foyers, dining rooms, hallways and bedrooms. Avoid using solid hardwoods in wet areas like laundry rooms, bathrooms, and basements. Engineered hardwood flooring that has a solid veneer with multiple layers of wood underneath is the wood of choice for walk-out basements or areas with fluctuating humidity. Since each layer is positioned in alternating directions, warping and bowing is prevented and still gives the appearance of solid wood that can even be refinished several times depending on the veneer's thickness.
Carpet – There's no harm in having carpet in areas such as bedrooms, living rooms or upstairs in your lake home. But you'll need to accept the reality that carpet absorbs moisture, dust, pollen and other environmental elements, thus must be maintained accordingly. Avoid using it in high-traffic, ground floor areas where wet, muddy feet might be.
Bamboo – More eco-friendly and tougher than hardwood flooring, Bamboo is another option that resists infrequent water. It is not a water-proof material though and is prone to cracking when there are drastic humidity changes. Solid, stranded bamboo wins out over other types for strength, durability, and ability to refinish. Lighter colors are less susceptible to scratching and UV discoloration.
Definitely avoid these options in any below grade (beneath ground level) rooms in your home. Because these areas are more prone to flooding and lingering moisture, it is best to avoid any type of flooring that is prone to water damage.
Of course, preventing as much moisture and dripping on your floors to begin with is the ideal scenario in any lake home. To accomplish this, consider a back entrance or a "wet room" that's directly accessible from the lake. If this isn't feasible, a separate bathroom close to the entrance near the lake can work great.
While these entrances can be utilized regularly by you and family members, they'll be especially beneficial when it comes to guests who are coming inside still wet and need a convenient place to change. If you use the correct flooring options, of course!
This article originally appeared in Lakeside News, August 2020. Contact us for help planning your lake home renovations!