Integrating Smart Technology in Your Home Remodel
This article was originally written for and published in Lakeside on Lanier.
"Alexa, turn the lights on downstairs."
"Google, set the temperature to 68 degrees."
"Hey Siri, is my garage door open?"
When it comes to smart technology for the home, the options are endless. And while there are plenty of gadgets you can install yourself to add convenience and fun to your home, there are other, more comprehensive upgrades to think about when planning to renovate.
Without integration into your HVAC, lighting or home security system, your Amazon Echo can give you the weather, play music and tell you a joke, but it can't do any of the commands listed above.
We've put together a few smart ideas you can add to enhance your home, as well as some bigger picture ideas that can truly revolutionize the way you live.
Smart Doorbells
Smart doorbell cameras like Amazon's Ring and Google's Nest Hello, among many others, have made headlines for their usefulness in catching package thieves red-handed. While these devices are relatively easy to set up if you know your way around a smartphone and a drill, you aren't exactly getting the bang for your buck that you would if the devices were integrated into your home's smart lighting, locks and more.
That shouldn't necessarily deter you from getting one. Being able to see who's at your door and even communicate with them from inside is useful for personal safety and entertaining the grandkids.
Smart Thermostats
While convenience is king when it comes to many smart home features, the efficiency upgrades they bring shouldn't be overlooked. Smart thermostats are a not only a great way to regulate temperature in your home while you're there (Who wouldn't like to adjust the temperature in the middle of the night without getting out of bed?), but they are especially handy when you're gone.
Energy-saving experts will tell you it's not a good idea to constantly tinker with your temperature settings. Replacing outdated HVAC equipment when you remodel however, combined with a smart thermostat, can pay off more quickly than you think. The added efficiency of the new unit, along with the ability for a few touches on your smartphone to ramp up the AC when you're on the way back from that summertime beach trip, can't be beat.
Bathroom Upgrades
If you are a more adventurous DIYer, you may feel comfortable replacing an old toilet with a newer water-conserving model. That's a great start! As you think about other ways to upgrade your bathroom, don't forget about other possibilities that may require professional help to get just right.
An experienced design-build professional can create a plan for your bathroom that incorporates radiant heat into the floors and wiring that enables you to listen to your favorite podcast or playlist while you're getting ready for work or relaxing after a long day. "Hey Alexa, play Shower Songs!"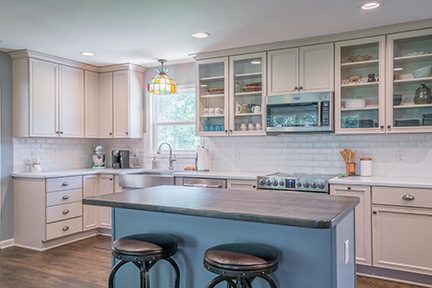 Kitchen Convenience
The "kitchen is the heart of the home" is a popular cliché because for many families, it's true. If you're thinking about a kitchen remodel, plan to integrate technology from the beginning. Smart appliances are an obvious choice when upgrading your home. Leave home without starting the dishwasher full of dirty pots and pans? A couple of clicks on your tablet will ensure they're clean and dry by the time you get back and need to start dinner. At the grocery store and suddenly can't remember if you need milk? Get a live look via an app on your smartphone.
And while you don't have to remodel your kitchen to replace outdated appliances with the newest Wi-Fi enabled models, there are other smart features that a professional contractor can incorporate into any renovation plans. A design-build firm will not only help you select paint colors and materials for countertops or flooring, but it can incorporate wiring and power strips or connections hidden beneath or inside cabinets instead of more visibly placed outlets in the walls or backsplash.
These types of details combine aesthetics and functionality to create spaces that work for you. As you consider renovating your home, ask your contractor how smart technology can make your home more functional, and fun.