How to Keep Your Home Renovation on Schedule
Outside of a budget, one of the most intimidating things a homeowner may face when considering a renovation is the timeline. The amount of time to finish a renovation will depend on the room(s) being remodeled and the extent of work the room needs. Many people have never remodeled and don't realize there are many interworking parts and pieces that are dependent upon one another.
Sometimes we all wish we could wave a magic wand and have an immediate new kitchen or bath! However, working with a design build firm that has an in-house designer and a project manager (who is also an experienced carpenter) to keep it all in line is the next best thing!
Creating a realistic timeline is just as important as making a budget and will help you maintain your sanity and expectations when undertaking a remodel. Allow appropriate time not to be rushed, and you'll enjoy the process much more!
Hire the right contractor
Finding a contractor who is established, with plentiful good reviews and excellent customer service, will be paramount in knowing your project will be completed in a timely way. This is the first step to getting the home remodel of your dreams. Choose a contractor who has been successful with those you know in your area and is within a good driving distance of your home. Personal experience with a local contractor is going to add to the quality of the recommendation.
Communication is key
From the offset of a project, communication between the homeowner and the contractor will be the key to keeping expectations in check. When undertaking a minor or a major project, contractors and homeowners should agree on start date and what will happen over the several weeks after starting a project, with important dates like demolition penciled in. Communicating what your needs are early on – family coming for Thanksgiving? going out of town for a month during construction? – will ensure a smoother and quicker process while schedules for workers are coordinated and work is completed.
Iron out the details
Research and discuss with your contractor what is the homeowner's responsibility in securing permits, deciding on and purchasing materials, and readying the room. At Tracy Tesmer Design/Remodeling, our process includes obtaining necessary permits and helping with materials selection, but not all remodelers can say the same.
If you're completing a kitchen remodel for instance, make sure pots and pans are out of cabinets and stored elsewhere, and have the room ready to go for the contractor before they arrive to begin the project. Decide if you will be reusing appliances and storing them on or off-site or buying new. Do your research and ask your remodeler to know how long your desired products typically take to order, so you will know what to expect during your remodel. Time can vary for product arrival from one week to eight weeks, so it helps to make your selections early in the process (think cabinets, countertops, tile, etc.). And when you make your final decisions, stick with them. This way you can ensure that you aren't the one delaying your renovation's timeline.
Budget in time for delays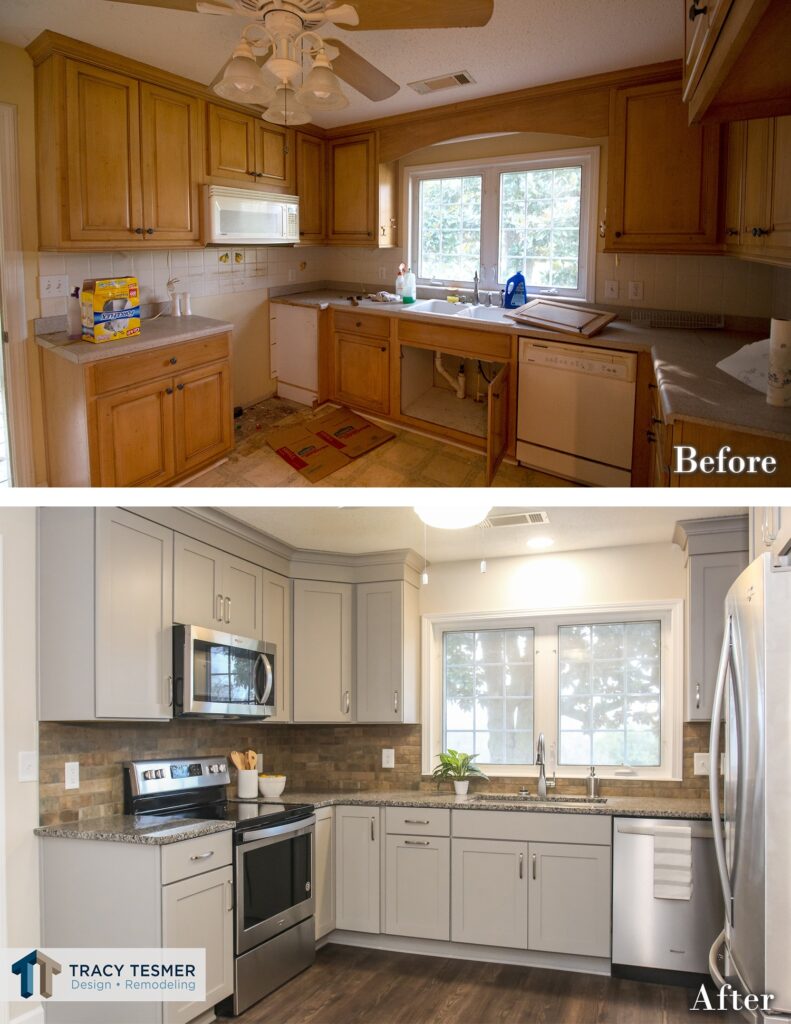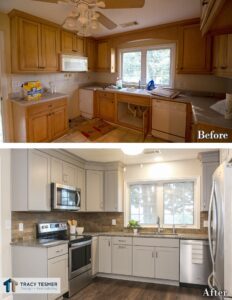 Delays are inevitable when undergoing a home remodel, and oftentimes are outside the contractor's control. Understanding that contractors may have to wait on permits, products or inspections will help homeowners with their remodeling timeline expectations. Weather, unforeseen hindrances such as mold or rotten wood inside walls (undetectable until contractors are in the middle of the project) or subcontractors running behind schedule, all can affect the timeline of a project. Building in extra days for these occurrences help to set expectations and decrease frustrations amid a home remodel.
Keep in mind the end goal…and breathe!
While home renovations may seem stressful in the short term, in the long run they will help you achieve the goals you have for the home you envision. For help determining how to achieve your home remodeling dreams with a plan and a process in place, call us at 678-450-1700. We'll take care of all the details and manage the scheduling, so you don't have to!