Kitchen Cluttered? Help Is On The Way
For many families, the kitchen serves as the heart of the home. Whether it's a child pulling up a chair to complete her homework, a mom rolling out dough with her son to make Christmas cookies, or friends gathered around the island enjoying hors d'oeuvres during a dinner party, there's just something special about the kitchen.
But much like the heart can't function properly if blood flow is impeded, the kitchen doesn't work like it should if inefficiencies keep you and others from moving around in an effective way.
Here we share a few (hidden) organizational tips to help you be more efficient, as well as some great ideas for how to create your dream kitchen should you have the opportunity to remodel.
Keep staples close
Store commonly used herbs and spices near the cooktop. You can do this discreetly in an easily accessible cabinet but consider using tiered or rotating shelving. This way you can quickly locate the item you're looking for, instead of having to play duck-duck-spice during meal prep. You can even add cabinet door mounts for additional storage.
Another popular option is to create a spice drawer, although these tend to work best if you're able to have the same sized jars for all of your herbs and spices. Of course, there's always open shelving or magnetic shelving that can be mounted above the backsplash. Those options help with organization, but aren't hidden from view.
Mind the triangle
The kitchen work triangle is a design principle whose goal is to create an efficient space that is both visually appealing and functional. It's based on the idea that the main tasks in a kitchen take place between the refrigerator, the stovetop/cooking area and the sink. When these components are close enough (without being too close), the kitchen will be easier to use, especially if there is no major traffic flow through this area.
There are recommended measurements for the minimum and maximum amounts of space between each component, but those are the types of details an experienced design-build professional can evaluate in your existing space and implement when helping you plan your dream kitchen.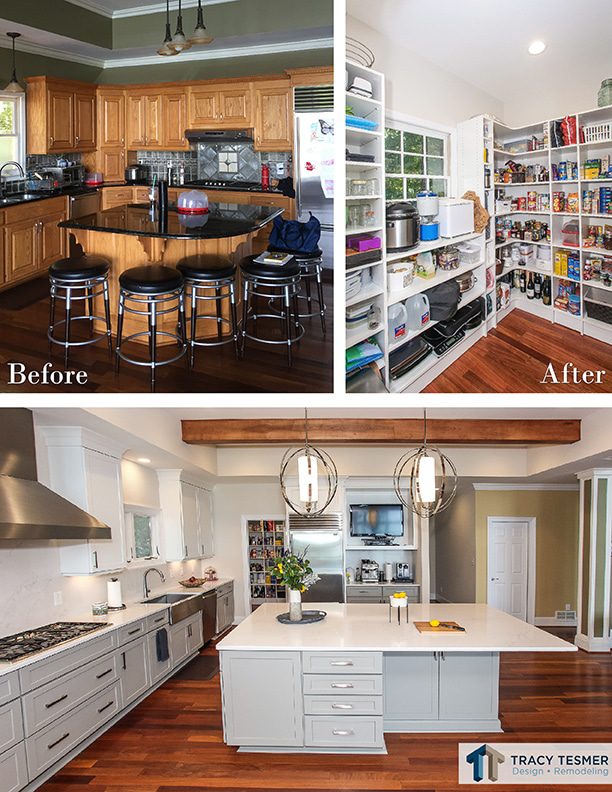 Find places to add storage
Adding an expanded island to your kitchen? Consider making the base full of storage drawers or cabinets. There are still plenty of ways to add seating around the island without sacrificing storage space.
Planning a pantry? Consider dedicating enough space for the pantry to be a walk-in. Obviously, this will give you additional storage, but it also allows flexibility with shelving that makes organizing and finding items much easier. And if you really want to splurge, consider making a small area within the pantry a prep space. These spaces, traditionally referred to as a "butler's pantry" in larger homes, can be ideal if you enjoy hosting dinner parties.
Considering a kitchen renovation? Our design-build team is ready to help your vision for your kitchen come to life. Contact us today!