Let the Home Remodeling Experts Handle Your Project… and Your Stress!
The popularity of shows like Fixer Upper prove that audiences love a home renovation project… when they are not the ones having to stress about it! Big changes to your home can come with major anxiety about the project itself and the money it'll take to move the project along, not to mention the timelines and possible disruptions to your daily routine as the project is being completed. That's why it's important to seek out remodeling experts when considering a renovation to your home.
Knowing where or how to begin
Many homeowners feel anxious about not knowing where to start or whether their projects will need permits or be up to code. A full-service home remodeling firm can help homeowners navigate these stressful initial steps and how to best proceed through the project in a timely way. We have a tested and proven process here at Tracy Tesmer Design/Remodeling (TTDR) that guides you through the entire project.
One main point of contact
When you work with a professional remodeling company like TTDR, you have one point of contact – your project manager. You don't have to manage different accounts with multiple contractors – your project manager takes care of that and communicates status and progress back to you.
Experience is everything
Reputable home remodeling companies know who to call, where to go and how to find the materials you need for your remodel. They have the experience and insider knowledge of everything related to a renovation, from flooring selection prices that fit your budget to the best type of paint to use on your kitchen cabinets.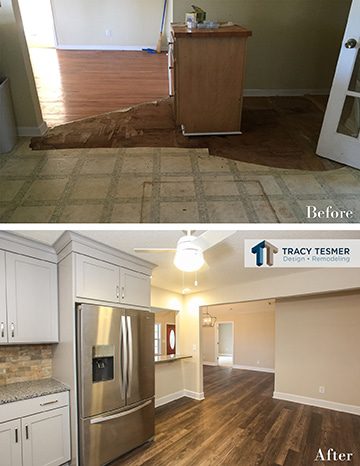 Team effort
Trying to arrange your time off work to meet contractors when you project manage a remodel yourself can end up costing you vacation days and sanity. With a home remodeling firm, the design and build team work together, with everyone on the same page as far as your budget and goals are concerned. You don't have to worry about quality control, scheduling, etc., while also trying to keep up with your regular work/life schedule.
Fixed pricing up front
With a quality professional remodeling firm, your fixed pricing up front is your final price. Allowances are budgeted in for material selections like countertops, flooring, backsplash, etc. Unless you choose to go above your original contract allowance with different material selections, for example upgrading from granite to quartz countertops, there should not be any additional costs throughout the project. Reputable firms will also notify you immediately to discuss anything that was discovered unexpectedly, such as mold from an unknown leak, and seek to address those needs while keeping as close to your budget as possible.
Your home is your biggest investment, and your life is affected by how it functions for you. When you are considering a remodel, don't let the stress overwhelm you. Allow our experienced team help! Call 678-450-1700 to find out more.