Light up the room by renovating your fireplace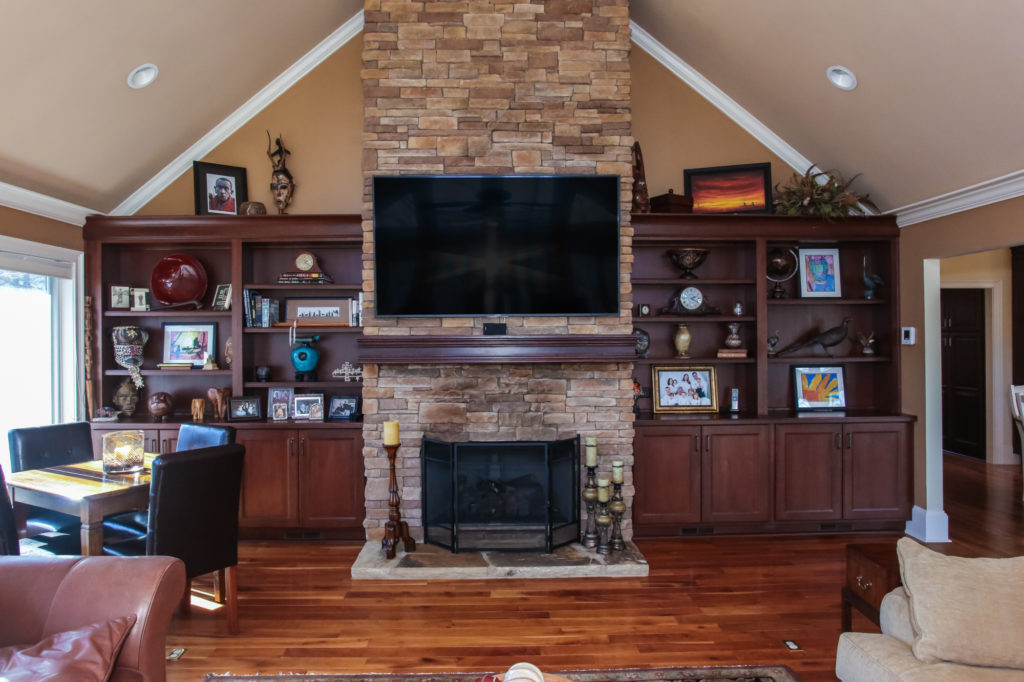 The fireplace should be a star of the show in your home, not the weakest link. As the weather cools down and you get ready to cozy up, consider the many ways you can remodel your fireplace.
Floating Shelves/Bookshelves
Choosing to add bookshelves or floating shelves to surround your fireplace is the perfect way to not only add functionality to your living room, but also offers more design opportunities. Highlight your fireplace and make it the focal point of the room by adding elements with a variety of sizes, colors, shapes, textures and heights to your shelves.
Ceiling-to-Floor
For homes that could benefit from adding some contemporary accessories, fireplaces that rise as a monochromatic mass from ceiling to floor are a great option. Typically, these modern monoliths do not contain a shelf or mantel, but rather extend from the hearth and cover the entirety of the wall.
Tile the Hearth
Create exciting contrast by choosing a different color tile for your hearth. This choice can bring a much-needed pop of color to an outdated fireplace.
Cast Stone Veneer
This timeless look comes at a fraction of the cost of real stone and brings a perfect rustic charm to the home. Another reason to consider cast stone veneer is because of its lightweight nature, in addition to the fact that it comes in a wide variety of styles.
White Pillars
Sleek white pillars can be a unique option for remodeling your fireplace. Pillars have the ability to transform your fireplace into an elegant focal point for the room. This accessory is best suited for more traditional and classic homes.
Distressed Wood
To achieve a more rustic look, opt for distressed wood which will restore your fireplace to a stunning feature in the living room. These details complement exposed wooden ceiling rafters and can make the home very cozy, whether there's a fire going or not.
Gas Fireplace
Gas fireplaces have come a long way, with more realistic logs and flames. Choosing a gas fireplace means choosing minimal clean up and increased safety. There are several different models to suit any home.
Ready to renovate? Our professionals are experienced design and build experts. Contact us today!