Not ready for a full remodel? Try these bathroom upgrades first
Any major home remodeling project can be daunting, especially in terms of the temporary inconvenience it can cause. This is especially true for bathroom projects because upgrades to any part of it usually results in the entire room being unavailable.
As a result, a bathroom remodel is often put off which means that it can get run down and dingy even with frequent care and cleaning. But fear not! There are plenty of bite-sized projects you can undertake that can brighten up your existing bathroom without the major undertaking of a complete tear-out.
Paint the walls
This one probably goes without saying! Is there ANYTHING that is easier to do that makes as big a difference as a new coat of paint? You can match the old color to add a fresh look or pick an entirely different one that will make it seem like you've walked into a new room. If choosing a new color, be sure it's something that will complement the existing décor (unless you're changing that out too; more on that below). Taking the time to properly "cut in" the edges will also make a huge difference in appearance. Since the bathroom is always a humid environment with hot baths and showers, make sure you choose a mildew-resistant paint to avoid future issues.
Paint and update an existing vanity cabinet
Replacing an entire piece of cabinetry is an involved process, but painting an existing vanity can be just the thing to make it SEEM like it's new. Take out all the drawers and paint everything separately, then give it plenty of time to dry to prevent the paint from sticking and getting the drawers stuck. And speaking of drawers, adding dividers to them can make the inside go from a jumbled mess to a perfectly organized layout where everything you need is readily visible and available. Finally, a thorough scrubbing/cleaning and/or resealing of your sink and countertop can bring back the shine; just be sure to research the best ways to do it for whatever materials (link to existing blog about countertop maintenance) yours is made of.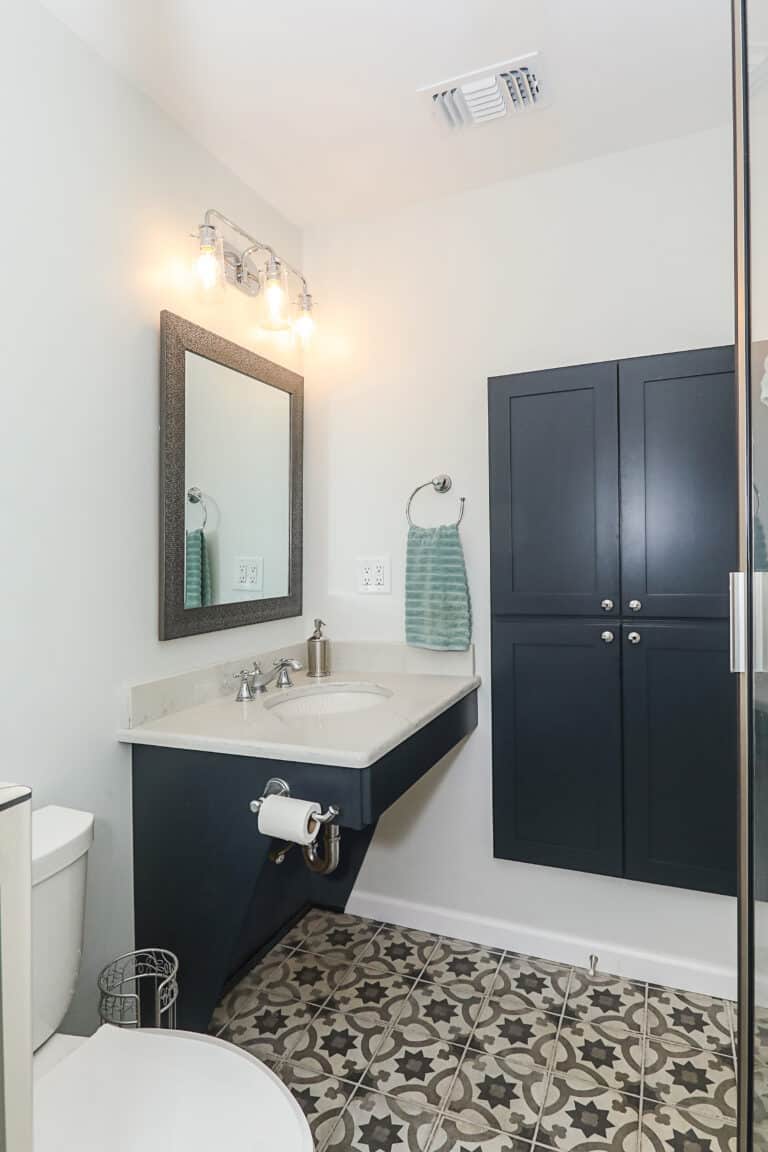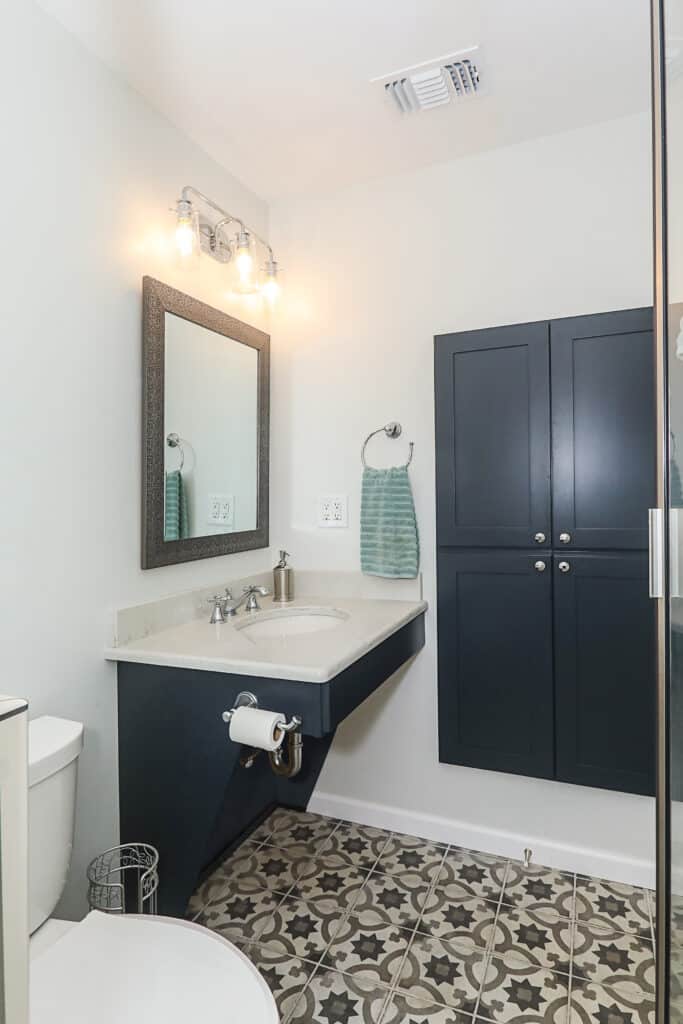 Replace cabinet hardware and fixtures
Replacing the hardware (faucet, showerhead, towel bars, toilet paper holder, etc.) in your bathroom can be exciting, but also exhausting due to the seemingly infinite choices available. Brass, nickel, stainless, and bronze metals in a dizzying variety of shapes and sizes means that it can be hard to narrow down exactly what you want. And coordinating the 'look' of drawer pulls, faucets, towel bars, toilet paper holders, shower heads and knobs and even doorknobs can take forever and be surprisingly expensive depending on your choices. The good news is that once the decisions are made, changing these items out is usually a cinch. Non-plumbing items usually require only a screwdriver, and even new water fixtures are usually of an industry-standard size that makes replacement easy (just remember to shut the water supply off first).
Change the light fixtures
Nothing brightens up a room like, well, brightening up a room. New lighting fixtures in a totally different style can not only change the vibe and décor of the room but can add more illumination to a space that usually needs it the most. Coordinating design and metal type with existing fixtures, or all-new fixtures, can make a big difference in how the room looks and feels, especially if you do your research and incorporate some of the new advances in LED bulbs, including different colors, varying brightness, and even voice control to go along with the traditional cool versus warm effects.
Update your mirror(s)
New mirrors can also make a big change in a bathroom. There may be a little bit of effort to remove existing mirrors if they're affixed to the wall with adhesive, but it will be worth it if you don't like the current design or want to go with bigger mirrors. Indeed, a bigger mirror (or two) can make a small room seem much more spacious than it actually is, and finding a mirror with a frame that matches the new décor (or adding one around it yourself) can help tie the entire room's look together.
Deep clean any tile grout
Years of use can grime up any surface, but especially bathroom tile. Whether it's in a tub, in the shower, or on the floor, the grout (due to its porous nature) catches all the dirt and oils that come in contact with it. What was once white and crisp turns to a dark brown or gray. But a good cleaning with the proper chemicals and a little elbow grease can usually bring the brightness back to the grout. You won't know what a difference in appearance it can make until you see it! As with countertops and sinks, make sure the cleaners you choose are compatible with the type of tile in your bathroom.
Install a new toilet
Installing a new toilet can be tricky but can be done by most folks with a little research and some patience. Older toilets can begin to leak, or just instill a very dated look to a bathroom. When choosing a new toilet, things to consider include the footprint and water efficiency rating per flush. While most toilets are sold assembled, most are actually of two-piece construction, and it can be much easier to carry, move and install the pieces separately. The most important factor in toilet replacement is to ensure a good seal at the flange, where the toilet sits on the floor and connects to the drainpipe. There are a variety of rubber and plastic seals, but the old tried-and-true wax seal, while messy, is almost always the safest and best bet.
Re-caulk where applicable
Re-caulking your bathroom may be the easiest project you can undertake. Often old caulk has yellowed, peeled away, or disintegrated making not only an unsightly appearance but compromising the waterproofing of a very potentially wet area of the home that can lead to troublesome leaks. Caulking is not meant to last forever, and so there are plenty of simple tools that can help you remove the old and install the new. Like cleaning the grout, you won't know what a difference this can make in the appearance of your bathroom until you've done it, step back and take a look!
Installing a glass shower door
Many showers still have a basic curtain and curtain rod, and while easy to install, clean and replace, they can be problematic and basic. Installing a glass shower door can bring a very modern look to a bathroom while making a big difference in keeping the water inside the shower where it belongs rather than leaking onto the floor… which can cause serious problems over time, especially in an upstairs shower.
If your shower is a fiberglass insert, there are usually standard-sized openings which mean you can get a kit at most home improvement stores that is fairly easy to install. The biggest chore will be carrying it from the car to the bathroom… and cleanup, of course! Glass shower doors are also easy to maintain and always look great, just be sure to match the metal surrounds with whatever other metal fixtures and features are in your bathroom.
Bigger projects = professional help
The above are great ways that you can freshen up your bathroom, but if there's more to be done it's probably time to call in the experts. When you're moving walls, plumbing and windows, or replacing flooring, the tasks can not only be daunting but, if done incorrectly, could cause serious damage not just to your bathroom but your entire home. So, if you're looking for a true remodel, call our experts and learn more about how we can put our award-winning design and build skills to work for you in your home or office. Contact us today!