The pros and cons of open floor plans
Let's face it, the open floor plan is no longer a trend – it's become a staple of new home design and many home remodeling projects. And while an open floor plan is a great, versatile feature most homeowners find desirable these days, it's also not for everyone. Sometimes it's personal preference dictating a different approach, and other times it's the existing space that may make an open living concept less than ideal or cost prohibitive.
Here at Tracy Tesmer Design/Remodeling, our designers are big fans of the open concept and our clients are, too. That's evident in our portfolio, which is filled with examples of successful renovations that incorporate open living spaces. It is also evident in the top features that buyers are looking for when they are hunting for a new home.
The explosion of home flipping, home renovation and house hunting programming on TV means that more people than ever before already have an idea of what they want in a new home (or home remodel). And in more cases than not, the centerpiece of those home design shows feature open concepts.
We also understand from decades of experience that a beautiful home remodel is not dependent on an open plan. We've put together a list of pros and cons to help you decide if this concept is right – or feasible – for you and your home.
[foogallery id="4175″]
Pros
Togetherness
Spend lots of time in the kitchen, but don't want to be totally cut off from family interaction? Do you enjoy entertaining, but look forward to engaging with your guests instead of just serving as the maître d / host / chef? The open floor plan expands the ability to communicate with friends and family across a broader space.
It's also ideal if you have young children you want to keep a watchful eye on while you prepare meals. Being able to cook while talking to your kids about their day allows you to get needed tasks done without sacrificing precious face-to-face time with family. It also can be nice to finish cleaning the kitchen without missing out on the latest Netflix series your family is enjoying in the living room.

Spaciousness
An open floor plan does just what its name describes – it opens up your space in a way that can make your living area feel larger than it is. Short of a home addition (which is great at adding square footage, but also comes with its own expenses), removing barriers between rooms will make your home feel larger almost instantly. Whether your existing house is actually small or just feels that way to you due to its layout, opening up rooms is an ideal solution.
Without walls segmenting space and cutting off flow, you can move freely and communicate easily. And it's not just the lack of walls that helps your space appear bigger than it may be – the absence of those solid barriers helps natural light flow throughout the open area.
Additionally, if you have a home with a view, like a lake house, an open floor plan means you can enjoy the sights from multiple vantage points in your home.
Flexibility
Instead of four walls dictating the layout of a room, an open concept means you can use furniture and interior design touches to mold the flow and appearance of your living area. Where a wall separates the living room from the kitchen in some homes, in an open concept, a sofa or a console table can serve as your divider without totally cutting off the rooms.
When things inevitably feel stale and you eye a new piece of furniture, you'll likely find it much easier to reconfigure a room (or rooms) when you are working with more movable features and fewer static ones. If you're the type of person who loves to freshen things up regularly, an open floor plan should help you scratch that itch.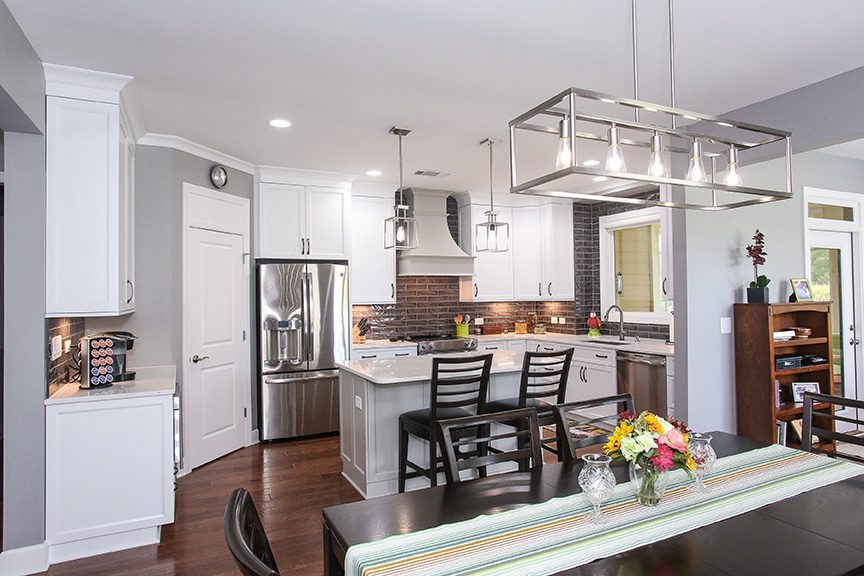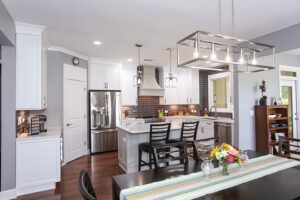 Cons
Not sold on the open floor plan? These may be some of the reasons why.
Lack of Privacy
Where some people extol the virtues of togetherness, others like their own space and a bit of privacy. Maybe the kitchen is your sanctuary, an escape to try new recipes or dine in peace. Or perhaps you want to spend time in your living room relaxing in front of the fireplace or enjoying a book without distractions coming from the bustle of the kitchen. If warm and cozy is your thing, you may want to think twice about an open floor plan.
Let's be honest – while some of us are tidy and organized, there are those of us who like to cook a meal, enjoy it and come back to the dishes later. Forget about it! Your messiness will be on display from multiple vantage points with an open concept. On the flip side, family dinner may be a time to leave behind the toys and clutter that inevitably come with having children. So if you want to eat in peace without eyeballing the 100-piece puzzle scattered across the den, you may want to consider a different layout for your home (or claim the chair facing away from the chaos)!
Expense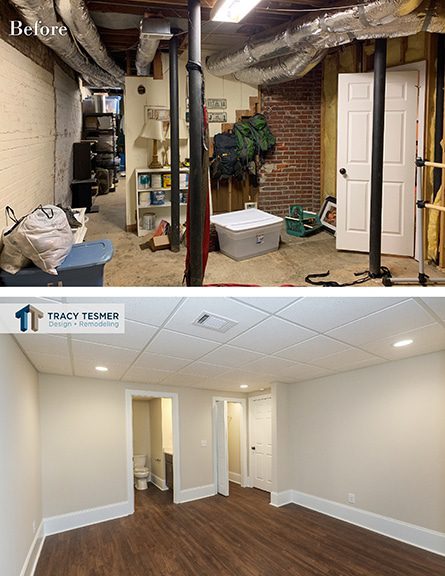 If you're looking to remodel your home (and are even a cursory fan of home remodeling shows), you know that the two words you likely don't want to hear when it comes to removing existing walls are "load bearing." Experienced home designers and contractors can work around this issue, but know that removing load-bearing walls and replacing those with supportive beams may well increase the budget.
Larger spaces, especially those with the high ceilings that are common with open plans, are also harder to heat and cool. Instead of heating or cooling the rooms in use, you'll have to do it for the whole space. These are things you'll want to consider outside of the initial construction costs. Incorporating smart technology at the time of construction could be helpful in curbing some of those expenses.
Expanse
Open traffic flow and communication has its advantages, but it also means more noise. An open floor plan naturally amplifies sound because there is less material (walls) to absorb noise. Vaulted ceilings that often accompany these concepts mean that audio, whether it's conversation or emitted from the TV, goes up.
On the fence? There are ways to have the best of both open and traditional concepts. Freestanding walls, open shelving and "half walls" not only serve the purpose of breaking up space without closing it off completely, they can add privacy and noise absorption while adding functional purposes such as storage or places to display artwork or family photos.
While there are plenty of pros and cons to consider when planning your home, an experienced design-build firm can help you blend the best components of your vision while finding solutions for those things that may be less than ideal for you. Contact us today and take the first step toward the home remodel of your dreams.