Sheen and Shine: The Pros and Cons of Polished vs Brushed Finishes
What's not to love about shiny metal things… they draw our attention, they can be a variety of shades and colors, and they can be both durable and beautiful. It's therefore only natural that we incorporate some of those shiny metal things into our homes, bringing the benefits of visual aesthetics as well as the material strength they offer.
When you decide to incorporate these metal features into a new home or a remodeling project, there are choices to be made concerning the finishes, and that depends on a variety of different factors including where they are and the decorative theme of the room they occupy.
The two most common finishes are brushed and polished, and can be applied to a variety of metals. The most frequently used are polished chrome and brushed nickel, but other metals such as brass, stainless steel and bronze can have those finishes as well.
It's important to understand the basics of exactly what is meant by "brushed" and "polished" because it makes a difference in the materials, and thus the fixtures, they are applied to.
Types of finishes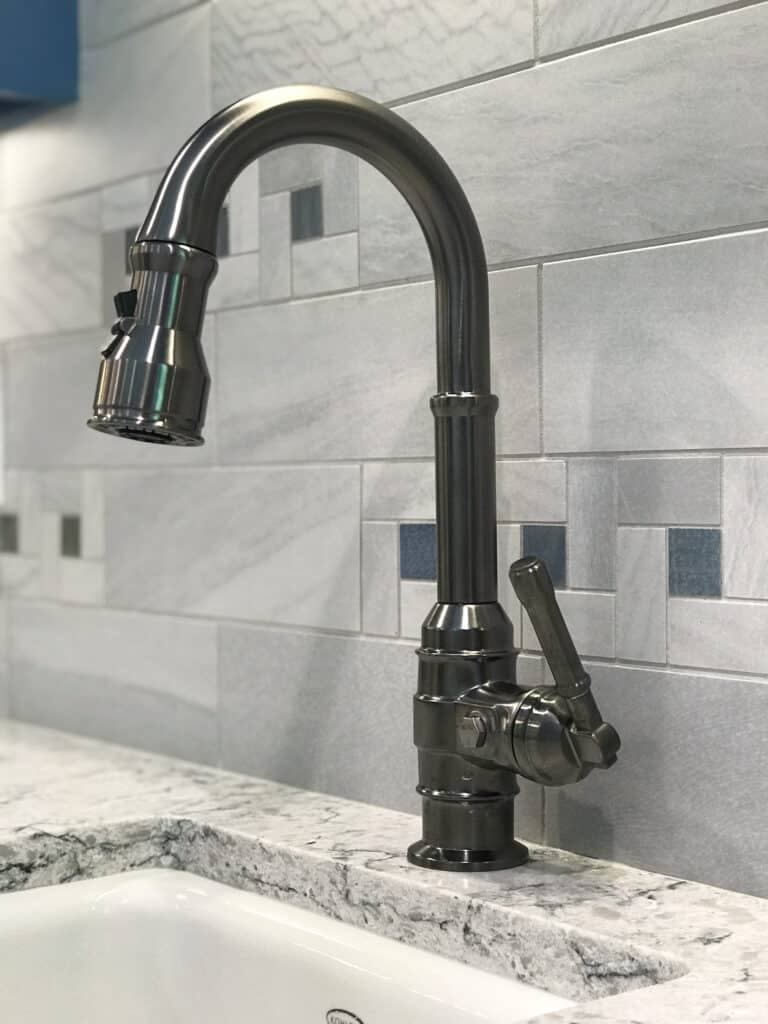 Brushed
Brushed is a type of finish that has been sanded or textured to give it a muted, satin-like appearance, and thus doesn't attract as much attention. It often is used in place of traditional polished finishes as it gives a more subtle, natural effect. It is created by brushing the metal with an abrasive material to create the textured finish.
A brushed finish offers many benefits compared to polished finishes: It is more durable, easier to keep looking great, and more resistant to fingerprints, smudges and scratches. The muted look also fits into many styles better than the glossier look of a polished finish.
However, the nature of the flowing, uni-directional finish can show scratches and wear as time goes by. Additionally, the brushing process creates thousands of microscopic nooks and crannies that can allow corrosion to take hold if not properly cleaned and maintained.
Polished
Polished is a type of finish that has a high-gloss sheen and a very reflective quality. It is made by polishing the metal surface until it is very smooth and mirror-shiny. This type of finish provides a stylish and contemporary look and has become increasingly popular in many applications.
Polishing has several advantages as a finish: First, it is a strong and durable finish and will not easily tarnish or corrode over time. Second, it is easy to clean and maintain, requiring only occasional wiping with a damp cloth. Last but not least, polished metal provides a sleek and modern aesthetic that can be used in a variety of applications, from kitchen sinks to hardware fixtures.
Even though polishing may be a labor-intensive process, fixtures with this finish are usually less expensive than brushed finishes. The high-gloss finish shows fingerprints and smudges, and while its reflective surface is easy to maintain, its original look may begin to tarnish, degrade or even crack if ignored or abused.
Types of applications
The most common metal fixtures in homes are door/cabinet hardware and kitchen and bathroom faucets. Because of their constant usage and functionality, the visual impact they have on a room can be well out of proportion to their actual size. Indeed, some folks pick out the sink and bathtub/shower fixtures they like first and then build their entire bathroom remodel around them!
Even something as mundane as doorknobs and hinges can make all the difference in first impressions of entering a home or one of its rooms. Thus, the look and finish of these fixtures must take into account the aesthetics of the room as well as day-to-day function and maintenance concerns.
This is where carefully choosing the brushed versus polished look becomes so important. The brushed look is still slightly shiny but doesn't grab attention, allowing the whole room to cohesively gel and set the style for the room. Alternatively, if the fixture itself is visually attractive, the glossy finish of a polished chrome can catch the eye and maintain the fixture as a centerpiece of design.
The durability of metal means that any fixture is usually intended to get a lot of handling and use, and both a brushed and polished finish can handle day-to-day usage… if properly maintained. As faucets are used multiple times daily, and usually in humid conditions, the durability of a brushed finish can be ideal.  However, if not maintained it can lead to corrosion. A deep cleaning with a soft cloth and a water and vinegar solution can often help before any tarnish or imbedded grit becomes overwhelming.
While a chrome polish is eye-catching, it's also fingerprint-grabbing; it especially shows the spots and smudges common in a functional piece of home décor much worse than a brushed finish. However, a simple wipe with a damp cloth cleans it right up, whereas cleaning a brushed-finished piece requires a little more process and attention to detail.
Ask the experts for help
Whatever finish you choose for your home fixtures, Tracy Tesmer Design/Remodeling can help you with every step of your remodel, whether large or small. We are the experts when it comes to finding the best way to make the most of your home renovation. To begin your renovation journey today, email us here or call 678-450-1700.