Simple home updates can have big impact
Typically, in the Spring, we talk about cleaning and organizing. But this year, let's talk about some simple Spring updates for your home. When it comes to making updates, there are so many options out there, but which options will have the most impact?
Top interior home updates
Let's start on the interior of your home. One of the best updates you can make to the interior of your home is new paint. If your home's walls are tired or dated, freshen them up with a new color. Color "trends" are typically short-lived, so make sure you pick out a color that is true to your style and personality. Whites and grays are not for everyone, and that's OK!
There are an infinite number of options out there. We recommend using a premium grade paint, such as Benjamin Moore, PPG, or Sherwin Williams to get the best results. Cost will vary depending on whether you're willing to do the work yourself or if you prefer to hire a professional. When painting the walls, don't forget about trim and doors; chipped, yellowed, or dingy trim needs an update, too. This will help your home feel fresher and cleaner.
Another update you can make to the interior of your home are new window and floor coverings. Spring is a great time to switch out heavy curtains or blinds with something lighter and brighter. Cotton, linen, and silk are all great materials for curtains, and if you're looking to block out light for sleeping, choose options with blackout panels.
When it comes to floors, hardwoods or other wood-look materials continue to be the most popular. If you want to add some warmth to your wood floors, consider adding or changing out a rug. A rug, along with other accessories, is the best places to bring in "trendy" patterns or colors since they can be changed out easily. You can go with lots of different materials for your rugs as well: wool, polyester, jute, or cotton, and don't be afraid to bring in a mix of textures in your coverings and accessories. This will add dimension and interest to your space.
Speaking of wood floors, if you have solid wood floors anywhere in your home, take inventory of their current condition. If it's been many years since they've been finished, it may be time for a refinishing. This would also be a great time to change the color.
Lots of homes built 20 years ago or more tend to have orange or yellow tones, so now would be the time to change to a brown, more neutral and timeless tone. Changing the color of your floors can bring new life and style to your space. Just don't forget, refinishing hardwoods is a complicated endeavor and best left to a professional.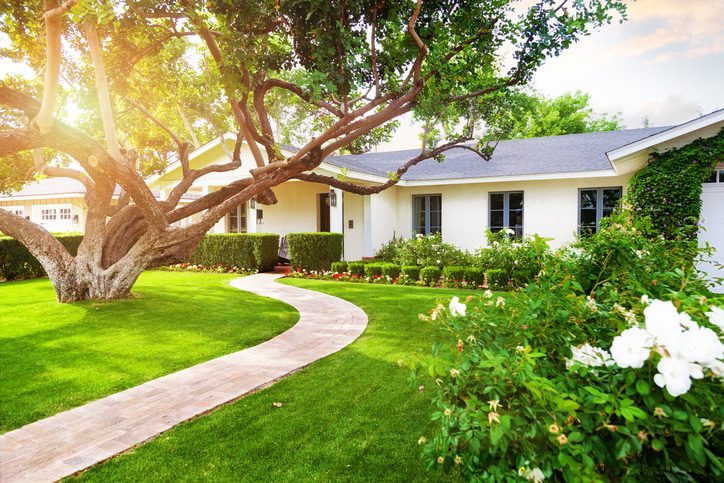 Top exterior home updates
In addition to the interior of your home, there are also many updates you can make to the exterior. Just like the interior, painting can give your home a facelift. If it's been 10 years or more since your home was painted and you still like the color, you may just consider a fresh coat.
Otherwise, if it's time to repaint and you're tired of the color, now is the time to change it up. Just make sure you get the necessary approvals from your HOA, if applicable. And when you're painting the exterior, don't forget the trim, as well. If you have vinyl siding that cannot be painted, a good pressure-washing will help clean and brighten up your home.
Next, consider your home's curb appeal. Changing up your front door can bring a new look to your home. This could either mean replacing your door with a new one or painting your existing door a new, bold color. Changing your shutters to a new color or style is a great update, too.
Lastly, now is the time to clean up your yard before the summer heat hits. New landscaping can help give your home some major curb appeal. If you don't have the budget for new plants, just weeding your yard, putting out new mulch or pine needles and pruning can have a big impact. You don't want overgrown trees or bushes covering up your beautiful home.
When it comes to updating your home, the sky is the limit. Updates can range from new accessories to new paint to a completely re-designed interior or exterior. Just don't forget, for more time-consuming work or work beyond your skill set, reach out to a local professional for help. It will save you both time and money in the long-run.
This article originally appeared in Lakeside News.