Tracy Tesmer Design/Remodeling named 'Best of Hall'
For Tracy Tesmer, being able to "wow" the clients he works with is what makes his job so rewarding.
"We want our clients to be blown away when they see their completed home remodeling projects," says Tesmer, who founded Tracy Tesmer Design/Remodeling in 2009 after owning a successful CASE Handyman franchise in Gainesville for 10 years.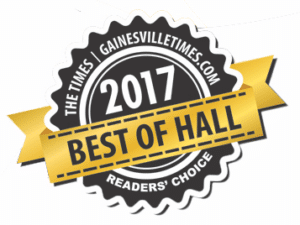 And clients are clearly happy. Tracy Tesmer Design/Remodeling recently was named "Best Remodeler" in the Best of Hall contest from The (Gainesville) Times. This is the second consecutive year the Gainesville-based business has taken home the honor.
As North Georgia's premier home, kitchen and bathroom remodeling firm, Tracy Tesmer Design/Remodeling offers custom designs for homeowners seeking professional remodeling services.
"It's an honor to be named the 'Best Remodeler', and we appreciate the support of the Gainesville/Hall County community," Tesmer said.
Industry leaders
Tracy's also big on sharing his industry knowledge with the community as co-host of "The Home Improvement Show with Tracy and Steve" each Saturday morning from 8 to 10 a.m. on WDUN AM 550 and FM 102.9. Since 2003, he's offered listeners professional advice, answering their questions and keeping them up-to-date on the latest home design and remodeling trends.
Part of what sets the company apart is not only the extensive experience they bring to the table, but a unique design and construction process that keeps projects on time and on budget.
Here's what that process looks like:
Initial Consultation
We'll work together to determine the exact scope of the project, discuss budgets and explain our process, as well as discuss any preliminary design ideas.
Feasibility Study and Design
This phase includes developing designs that consider the existing structure and design-build trends, defining scope for final plan, creating floor plans and 3D-design renderings and identifying zoning or covenant restrictions.
Construction Documents Creation
Design review with mechanical and structure experts during walk-through with our project manager, designer and tradesmen helps identify any structural issues.
Material Selection
Clients meet with our designer to select materials, including plumbing and lighting fixtures, flooring, tile, cabinets, countertops and paint colors.
Construction
Our process includes procuring building permits (a crucial step), project scheduling, coordination of inspections and client review of project completion. Throughout construction you will receive regular communications from your project manager to keep you updated on your project's progress.
Whether you are undergoing a kitchen remodel, bathroom remodel or a home addition, we are here to help and work with you every step of the way! Contact us today or call 678-450-1700.
Click here for a full list of the Best of Hall winners.