Tracy Tesmer Design/Remodeling voted "Best of North Georgia" in 2 Categories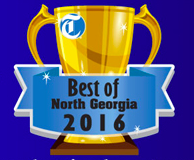 You may be familiar with Tracy Tesmer from The Home Improvement Show on WDUN News/Talk AM 550 and FM 102.9 in the Gainesville and North Georgia area. He has been on the air each Saturday from 8:00 am to 10:00 am ET since 2003, offering his listeners professional advice, answering questions and keeping them up-to-date on the latest home remodeling and home design trends.
That reassuring expertise and determination to always please the homeowner is what led him 16 years ago to establish Tracy Tesmer Design/Remodeling, North Georgia's premier home remodeling, kitchen remodeling and bathroom remodeling firm.
Tracy says: "We want to hear our clients say 'Wow' when they see the quality and timeless design of their completed home project. Our extensive experience in the construction industry has prepared us well to be successful.
"I would like to thank the residents of Gainesville and North Georgia for voting Tracy Tesmer Design/Remodeling the "Best Home Remodeler" and "Best Kitchen & Bath Remodeler" in the Best of North Georgia 2016 readers' choice awards presented by The Times. The recognition is greatly appreciated."
Tracy's team can quickly plan a project that fits your budget and lifestyle: from Home Additions to Kitchen and Bathroom Remodeling and Renovations, to Rightsizing and Age in Place Remodels.
We have a unique process for working with our clients, one that helps keep our projects on time and on budget:
Initial Consultation
– Meet with Tracy Tesmer at no charge to review design options, confirm final design and budget.
Preliminary Design and Feasibility Study
– Develop design needs for existing structure, taking into account design-build trends; identify zoning restrictions, define scope for final plan and create preliminary floor plans and elevations.
Construction Documents Creation
– Design review with mechanical and structure experts during walk-through with Project Manager.
Construction Process
– Communication and attention to detail is important. Your Project Manager will procure all building permits, create project flowcharts, keep you apprised of progress, coordinate inspections and client review of project work for sign off upon completion.
Whether you are undergoing a kitchen remodel, bathroom remodel or home addition, Tracy Tesmer Design/Remodeling is ready to help align your home and lifestyle! Visit our website (tracytesmerremodeling.com), check us out on Facebook or call us at (678) 450-1700.
Click here to read the article and see the list of all winners.