Use These Handy Storage Options and Tips in Your Kitchen
Storage is a fundamental feature of every kitchen design. No matter the size of your kitchen, you may find it difficult to create enough room for the essential kitchen dishes, gadgets and tools you've acquired over the years. Don't despair!
Storage in a kitchen can be a tricky matter, especially in smaller spaces, or if you recently had to downsize your home or kitchen area. Fortunately for homeowners, there are many different kitchen storage options available for a room that is usually one of the most (if not the most) used spaces in your home.
Let's examine some kitchen storage tips and ideas to help you keep your cooking and entertaining space clutter free.
Kitchen Storage Tips
Take inventory
For starters, consider this: your storage capacity might be fine the way it is. Your real issue could be excess kitchen accessories, utilities and appliances. Before beginning any renovation or installation of additional storage, you should go through all of the items in your kitchen and ask yourself a few questions.
• When was the last time I used this?
• Are there other appliances that perform the same function?
• Do I need it?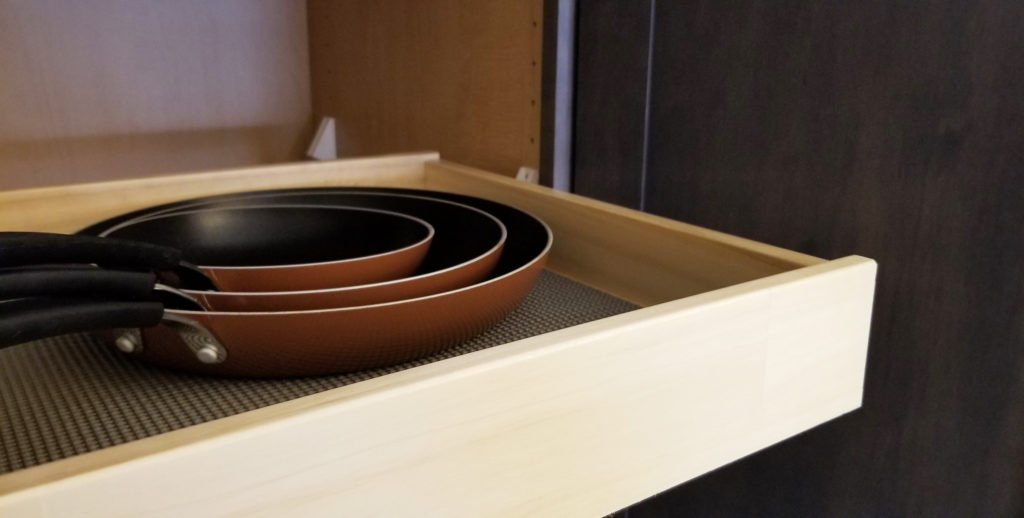 Evaluate your space
If you still find yourself needing more storage after whittling down your kitchen goods, you can then decide on what space solutions are right for you. Keep in mind you will want to plan for what you currently have, and maybe a little extra, as your needs will likely grow as time passes.
Next, determine ideal locations for your dishes, utensils, gadgets, etc., according to how you use them. Kitchens are typically designed around a triangle concept that makes moving between appliances like the refrigerator, stove and sink as efficient as possible. For example, storing your pots and pans close to the stove makes a lot of sense, as does keeping knives and mixing bowls near your prep space.
Think about these things before you begin adding additional organization or storage items, so that you can get the most bang for your buck.
Be creative with storage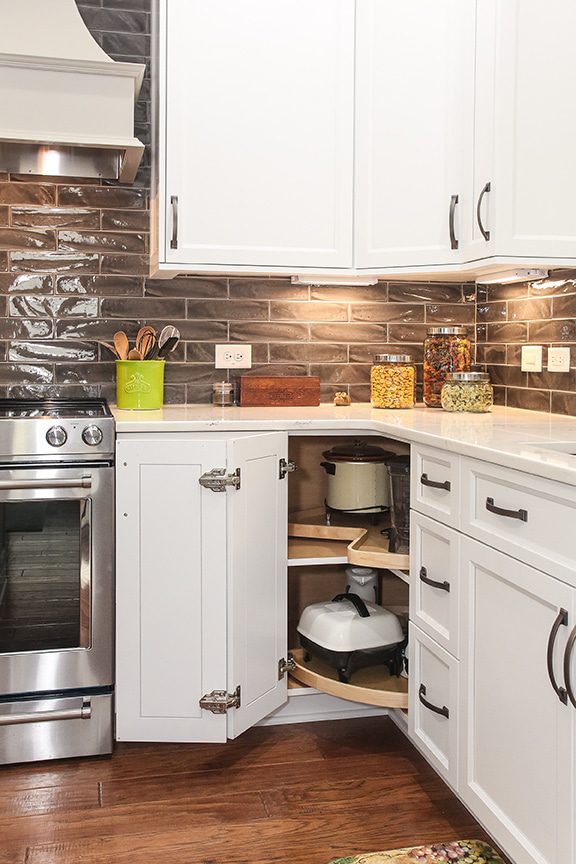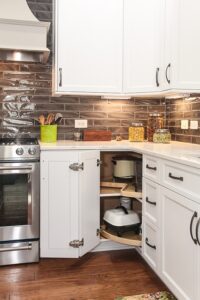 If you're planning a full-on renovation of your kitchen, you'll have the luxury of planning space with additional cabinets and drawers if needed. And if you're working with the footprint and cabinetry you already have, you'll have to get a little more creative and perhaps use nontraditional storage options to reduce clutter and aid organization. Here are a few ideas to help you achieve your goals.
Get the most out of your island – Islands are a kitchen fixture in most new construction and many of the kitchen remodeling projects we do. But an island can be so much more than a fancy enclosure for your kitchen sink or stovetop. Customizing your island to include drawers, cubbyholes, and even built-in wine racks provides so much more room. Islands can even add counter/dining space if you choose. Deep drawers for stock pots or sauté pans and shelves on the ends for displaying/storing dishes or cookbooks will help you make the most out of your kitchen centerpiece.
For smaller kitchens, you can opt to use a rolling kitchen island – simply wheel it in and out of the room as needed.
Dynamic doors – Door storage racks are still a great way to make use of the inside of pantry and cabinet doors. Use these handy contraptions to store spices, food items and kitchen supplies like trash bags and freezer bags, aluminum foil or even canisters of pasta, rice or dog treats. Not only will this help you free up coveted cabinet and grocery shelves, but they can make often-used items easy to access. Another trick is to install clips on a door for your pot and pan lids, a great way to keep these often in-the-way items secure and easy-to-find.
Use your walls & backsplash – There are many ways you can turn the two-dimensional spaces in your kitchen in to storage. A wall-mounted dish rack is perfect for opening up both counter space and cabinet space. Free up room by installing a magnetic knife block or a hanging rail on your backsplash. Not only will you clear clutter from your countertops, you won't have to open drawers to grab the utensils or items you need.
Think outside the box – If you have an exceptionally deep drawer with extra room, consider making use of a sliding insert which basically turns one deep drawer into two drawers. This great, innovative technique doubles a drawer's space on the cheap.
Similarly, if you have a base corner cabinet that is just taking up space or is awkward to work with, try installing a Lazy Susan to organize the space and make the items you store in it easier to access – simply rotate the Lazy Susan to reach things in the back instead of having to hunt and reach through rows of items for what you need.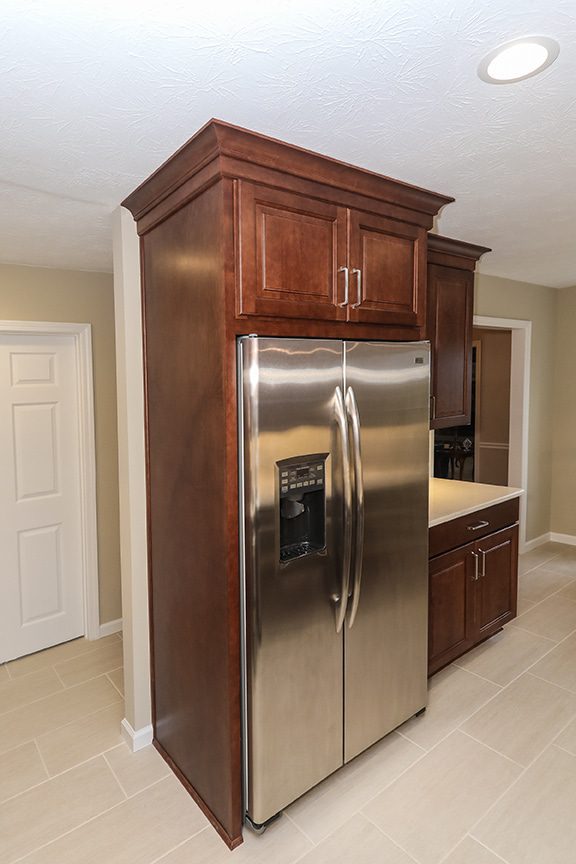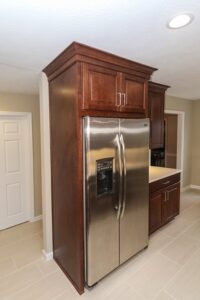 Look up – If you do not have a cabinet right above your refrigerator – and there is room – you can install one or add shelving for additional space. (Or simply use the top of the fridge.) While we wouldn't recommend storing everyday items there, it is a great home for seldom used appliances that you don't want to toss.
In much the same way, if your upper cabinets don't extend all the way to the ceiling, use that space for additional rarely used or sentimental items like grandma's vintage mixer or your collection of decorative plates or wine bottles.
Hang it up – Stemware holders that hang beneath kitchen cabinets are great for wine enthusiasts and free up space. Along the same lines, pot racks that hang above a kitchen island or along the wall are a great addition too, and they make grabbing pots and pans a lot simpler.
Put it away – Storing rarely used kitchen appliances – like that once-a-year turkey fryer or the enormous stock pot for your annual Low Country boil – in an attic or garage is also a popular kitchen space saving technique many savvy homeowners employ.
Most of the ideas we covered are ways to make the most out of your current kitchen space. But if none of these tips open up your space enough, or you think a kitchen renovation or kitchen remodel is what you really need, give us a call or email us to discuss your kitchen vision and let us help bring your cooking, dining, entertaining AND storage needs to life.