Use These 4 Tips To Brighten Your Kitchen
Your kitchen is the core of your home. It's where friends and families gather to fuel their bodies, minds, and hearts. It's a space for creativity and experimenting. It's where life happens. However, you can't fully experience all of this joy if your kitchen is dark, gloomy, and uninspiring.
So, how do you fix it? Brighten it up! These updates and additions to your outdated kitchen can help transform it into the light and cheery space you crave.
How to liven up your kitchen
Lighting Choices
Changing the way that a kitchen is lit can affect everything about the way it looks and feels. Seriously, good lighting can even make Twinkies look like a gourmet meal. Overhead lighting and direct light from windows don't always reach into all the nooks and crannies that are in most kitchens. Consider under cabinet lighting that will trick the eye into thinking there is more natural light in your kitchen than there actually is. This will also help brighten up those far reaching corners.
Adding recessed lighting is always helpful, and you can also add more stylish lighting into your kitchen by adding light fixtures that are not only inset or flush to the ceiling. By installing pendant lights or a fun chandelier above the kitchen island and/or breakfast table will not only add more personality to your kitchen, but is a practical way to make your work space and food prep more comfortable. Installing plenty of lighting can make a world of a difference in brightening up your kitchen — literally.
Paint it Up
An obvious solution to a brighter kitchen would be to paint your cabinets or make the majority of the cabinets or walls white or light colored. The color white easily reflects natural light, making your kitchen feel brighter and bigger than it may actually be. All paint colors have a listed light reflectance value (LRV) that you can use to help you choose brighter kitchen colors. The closer to white will have a higher number; the closer to black will have a lower number.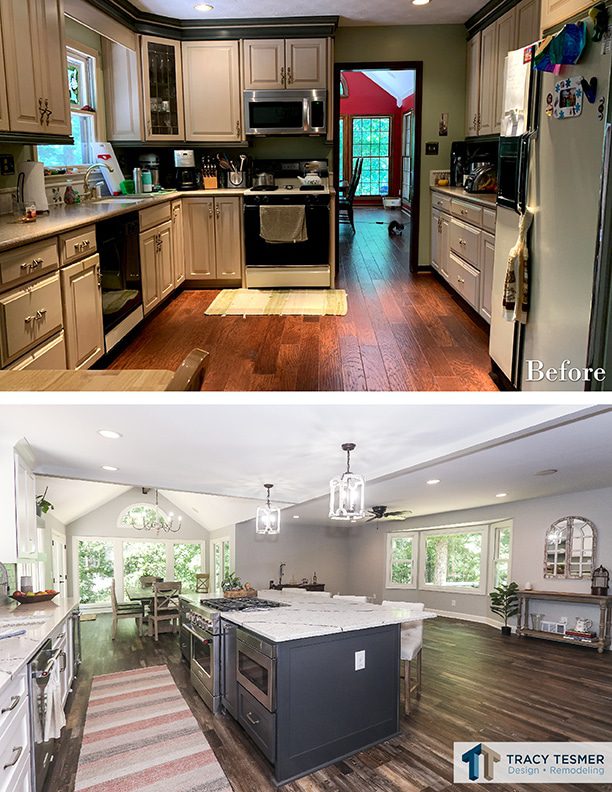 The key to having a white or light base in your kitchen is to also add in some color or contrast in order to avoid it feeling too plain or cold. You could choose an anchoring color like a navy island or darker backsplash to add contrast or try adding a bright color such as an orange hue in accent art or collector pieces that will spark new life into the area. Balance is always key whether you choose more subtle shifts or high contrasts that pop.
Don't feel you have to use all white to have a light filled space. Our experienced designers at Tracy Tesmer Design/Remodeling will help you with the overall look and feel of your space as well as all the little details. Regardless of what colors you ultimately decide, the use of paint will add to the character and personality of your dream space.
Accent Accessories
While you don't want to have a million accessories all over the counters and tables, having a few that pop with color is an ideal way to brighten your space and make a statement. Everywhere you look now-a-days, normal everyday kitchen accessories like coffee makers, blenders and even dish drainers are coming out in bold, bright colors that can pack a room with color. Textiles such as placemats, lamp shades and window treatments are helpful touches for adding cheerful hues that will brighten up the space and help bring a smile to everyone that steps into your kitchen.
If you aren't looking to accessorize, consider adding in some greenery for a softer, more natural look. Plants will liven up your kitchen and keep the air feeling fresh. Not to mention, it is a super simple, inexpensive touch!
Keep it Simple
Get rid of the clutter. It's as simple as that. Remove appliances from the countertops and stow them away in cabinet garages or install smart cabinet storage accessories such as a mixer lift. Fill up only a small amount of the counter space with things like plants, as mentioned previously, small paintings, or wooden cutting boards in order to help maintain the bright and airy vibe.
You can always keep out one or two appliances that add a pop of color to the space, especially if you use them daily. But leaving out too many large items will make your kitchen feel overwhelming and cramped. A minimalistic kitchen helps keep the area glowing and feeling spacious.
Bright kitchens will never go out of style and will bring life into your home. But if these solutions aren't helping you get what you need out of our home's kitchen, and need more help with different layout options, our design-build experts are here to help. Each year we help north Georgia homeowners open up and expand their kitchens into the spaces of their dreams. For more information or to speak with the home remodeling experts voted Best Kitchen/Bath Remodeler, contact us today!