How to Use Vintage Pieces in Contemporary Places
Bathrooms and kitchens both have necessity items to be considered when you are contemplating a remodel. While you can't get away from the essential list of things that must be in both rooms, that doesn't mean that the spaces have to be boring.
Vintage – When Old Is New Again
One easy way to individualize these typically utilitarian rooms is to use a vintage piece of furniture in place of your standard bathroom vanity, kitchen island or even sink basin. Dressing tables, dressers and wooden side tables can all be repurposed to add an individual sense of style to the bathroom or kitchen, helping to deliver something wholly unexpected in those spaces.
In addition, using sometimes discarded pieces of furniture in creative ways, such as cutting off the back legs of a sideboard and mounting it to the bathroom wall, gives a new life to pieces that might otherwise be taking up space in storage.
The best places to find these pieces, if you don't already have some in mind in your home already, furniture recycling warehouses, antique/salvage shops or used furniture stores, such as Habitat for Humanity's REstore.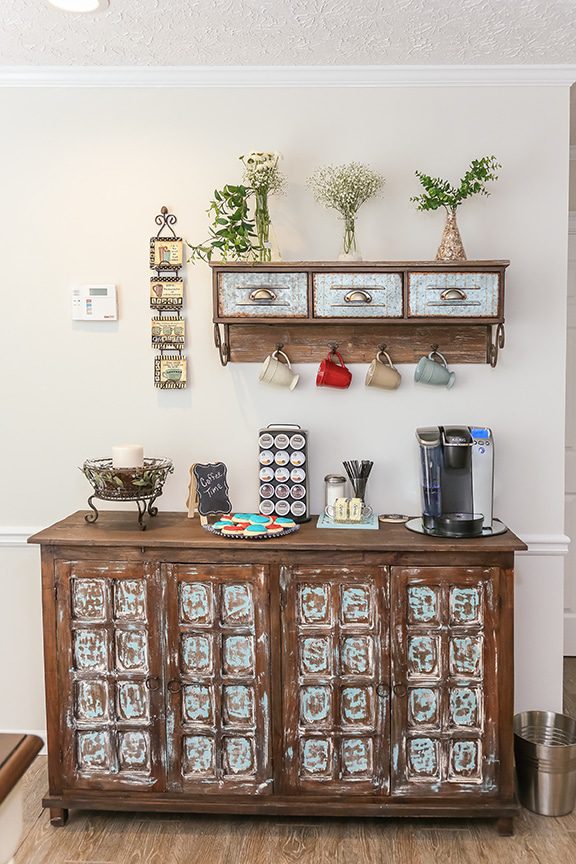 A Little TLC Goes a Long Way
Since you'll want to fully integrate them into the current space or the one you are designing, they'll probably need sanding, new paint or stain and perhaps hardware updates. But following a little TLC, they'll bring a whole new dynamic in whichever room you choose to use them.
Once the furniture is chosen and refurbished, you can decide whether you want a sink that sits atop the piece or mounted in it. Don't forget to consider the plumbing requirement of your home, which may require some cutting away of any enclosed spaces below. While these projects are sometimes straightforward, a design-build firm can ensure that structure and plumbing are sound in your new remodel.
Sometimes to innovate a space, you just need a little creativity and an assessment of what you already have in your home that can be repurposed in a new way.
Need help deciding how to liven up a bathroom or kitchen? Give us a call at 678-450-1700, and let us help you take your bathroom or kitchen from basic to beautiful. You can also reach us via our online contact form here.