Wallpaper anyone? Today's trends will bring life and class to any room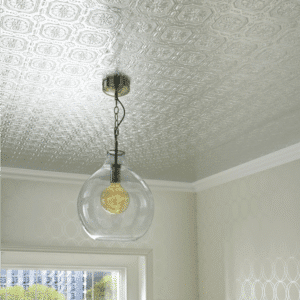 Lately we have been discussing the power of beautiful kitchens, bathrooms and even tile. But have you studied the influence of wallpaper in a room?
If you're considering updating your home this season, let the walls do the work. Not only can strong wallpaper show off your personality, but it also can make a design statement and bring awareness to any room in your home.
And before you have flashback to yellowing paisley patterns encompassing entire rooms, that's not what we have in mind.
Creative Wallpaper Ideas
Adding a bold wallpaper to the following spaces in your home can bring life and excitement to areas that may otherwise go unnoticed.
Ceiling
For our daring and rebellious homeowners, taking a chance on using wallpaper in the most unconventional of ways will really pay off. Consider picking a bold pattern to use on the ceiling of a bedroom or hallway to add excitement.
Entryway/Staircase
When guests arrive at your home, let your personality shine through by adding a metallic accent wallpaper to your entryway or staircase. This is likely one of the first places guests will see as you welcome them in, and first impressions are everything.
Dining Room
Leave neutral and muted dining rooms in the past. Insert a pop of color on one of the walls to highlight this important room. Go one step farther by placing the same accent color on the back of the dining room chairs.
Office Space
Work and play are of equal importance. Incorporate both into your home office by adding a pop of color or vibrant print with your wallpaper.
Nursery
Bring your newborn home to a unique and elegant room of their own. Consider a striking floral pattern or an adventurous animal print. These wallpaper choices will make the room timeless.
The design/build professionals at Tracy Tesmer Design/Remodeling are here to help! Contact us today for a consultation!