What's trending in 2021 bathroom design
While we design and build everything from kitchens and basements to whole home remodels and additions, bathrooms remain the most popular remodeling projects we undertake here at Tracy Tesmer Design/Remodeling. And while trends come and go, the evolution of bathrooms from basic, functional rooms to elegant, relaxing spaces has been ongoing for some time.
Whether you're looking to work within your guest bath's existing footprint or perhaps seek a more expansive master bathroom makeover, we've identified some features and design flourishes you can expect to see more of in 2021 and beyond.
2021 Bathroom Remodeling Trends
Storage innovations
Storage space is at a premium in all but the largest bathrooms. While bathroom built-ins (cabinets, shelves, etc) have become more common in the past decade, they also can take up a lot of precious real estate. Designing nooks and cubby holes into areas around the sink (and into showers) can be attractive places to keep beauty products or even jewelry you take off when you bathe or sleep.
Medicine cabinets also are making a comeback, but not the ones you remember from your grandmother's house. The bathroom's design can incorporate an inset medicine cabinet that's attractive (see a variety of backlit mirrored options) and functional. While cabinets, shelving and well-placed linen closets do a lot of the heavy lifting when it comes to bathroom storage, these seemingly smaller additions help eliminate clutter from your countertops while keeping often used and needed items within arm's reach.
Splashy vanities
Whereas a well-placed freestanding tub (more on that below), or a large, luxurious shower are centerpieces in many newer or remodeled bathrooms, the vanity has been making a play for more attention in recent years. More than ever before, you can find a vanity that looks more like a statement piece of furniture than a basic cabinet to hide plumbing or store a few items.
While the most common vanities stretch from countertop to floor, the "floating" vanity is growing in popularity for those working with tighter spaces or who just prefer a more open and airier feel in their bathroom. This feature brings us to…
Suspended sinks
Modern and minimalistic, these increasingly prevalent features are especially popular in smaller bathrooms and powder rooms. Similar to the floating vanity mentioned above that attaches to the wall instead of running all the way to the floor, a suspended sink takes the open and airy feel to another level. With this more modern look, finishes and hardware become the focal points instead of cabinets or countertops. Since plumbing is more likely to be exposed in this design scenario, extra attention must be paid to fixtures and hardware, including pipes, to ensure your bathroom looks polished instead of incomplete.
Freestanding tubs
The shift away from built-in bathtubs and shower/tub combinations has been ongoing for some time. In fact, the standalone shower with separate tub remains one of the most popular master bathroom layouts. And as walk-in showers get larger and more luxurious all the time, bathtubs are no longer a must for many home buyers or those looking to remodel. But not all homeowners want to ditch their tubs entirely.
Standalone tubs can vary in look, size and prominence depending on the homeowner's preference. Self-care isn't just a buzz word – features that enable it continue to be incorporated into our homes, especially in bathrooms. While the classic clawfoot tub still has its fans, so too do large, deep tubs made of everything from cedar to copper to acrylic. A third popular bathtub option does exist – and that's a smaller yet still standalone tub. More commonly known as "soaking tubs," these are not only space-saving options, but also take less water and time to fill.
Tile
While there's nothing new about incorporating tile into your bathroom, designers are doing so in new and unique ways. The subway tile that's become a staple of many kitchen remodels is finding its way into bathrooms – and not just as a backsplash. While some homeowners choose wallpaper for an accent, others are going with tile walls, including colored variations.
Mosaic tile always brings an artistic touch, but we're seeing even classic black/white mosaics come back with a contemporary splash. If it's a look you adore, you may want to see it across the room's entire floor. However, keep in mind that smaller mosaic tile is typically more expensive per square foot for material as well as labor to install. When on a more strict budget, it's a nice touch as an accent, such as the floor of your shower.
Nature/Spa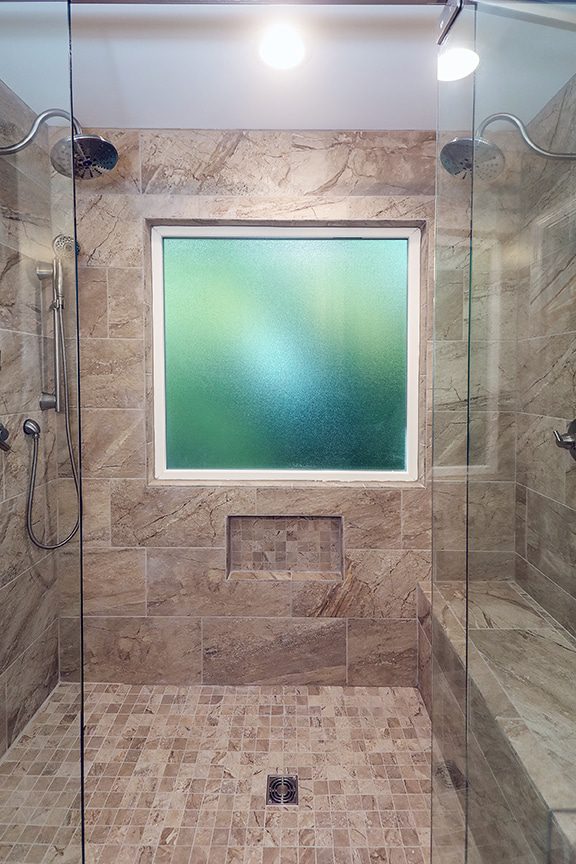 The trends in warm, nature-inspired colors are not limited to common areas or bedrooms. More and more homeowners are attempting to bring the outside in whether it's through those warm paint colors or in tile and countertop finishes. Stone tubs are a trendy and eye-catching option for some.
The shower is where a lot of homeowners start when it comes to a bathroom remodel. Large, walk-in spaces with spa-like amenities such as dual or rain showerheads are becoming more the rule than the exception. And for those who are fortunate to have privacy on their property, well-placed windows can allow you to admire the great outdoors while letting in loads of natural light. For those with closer neighbors, many privacy glass options exist that will still let in desired natural light.
If you're considering a bathroom remodeling project, our professionals are ready to help. From evaluating your space to design and the actual build, trust the experts voted "Best Kitchen/Bath Remodeler."