See what's trending in 2020 bathroom design
With more time at home these past few months, there is a good chance you've considered ways you can do something different in your home. Our recent blog on 2020 kitchen design trends is a great resource, but why stop there?
Just like you, we've had time to think about the many different projects that will bring your home to life, including bathroom upgrades. Use these tips as a guide for making your bathroom the perfect space to wind down in after a long day!
2020 Bathroom Design Trends
Colors
We all love color, right? It can make us smile when we walk into a room and uplift our spirits. It also can help us feel calm, cool and collected. Choosing the right color to put in your bathroom will not only make the overall feeling in your bathroom that much better, but it truly captures the room.
The colors of 2020 have moved to earthlier tones such as White Heron, Golden Straw, Crystalline, First Light, Thunder, Buxton Blue, Oxford Gray, Blue Danube, Windmill Wings or Cushing Green. These particular shades of blue are used to increase your relaxation levels, while the shades of green bring out our feelings of wellness and nature. Other colors may even boost your mood or creativity levels!


Tubs
Whether you use it every day or not, tubs have always been a bathroom classic. It's nice to have the option to draw a bath and take a nice relaxing soak with a book or a glass of wine… or both! It's easy to see how you can match your bathtub with just about anything in your bathroom. For a more modern 2020 bathroom, a popular choice is stone resin. However, if you lean toward a more classic style, copper and clawfoot remain popular in 2020.
Stone resin – There are many reasons why stone resin has become so popular in 2020. Lightweight and affordable, stone resin does not warp over time nor will it break, shatter or chip. This material is as durable as cast iron and nonporous so the structure of it will never change. Another big plus when incorporating this material in your remodel is that it is eco-friendly, made using recycled materials with an entirely green production model. Just avoid using acidic-based cleaners that can damage the finish.
Freestanding bathtubs – Many bathroom remodeling projects we see are in homes where the existing tub is built into a wall or corner. This approach is usually an attempt to save space and help with the room's flow. But recent design trends have seen a return to standalone tubs for those who want more than a great shower.
Freestanding bathtubs give your space a nice eye-catching look and may even increase the resale value of your home. When you walk into a kitchen, the first thing you usually see is the island. In your bathroom, make your freestanding tub your statement piece. When selecting your freestanding tub, consider a deep soaking bathtub in order to truly relax!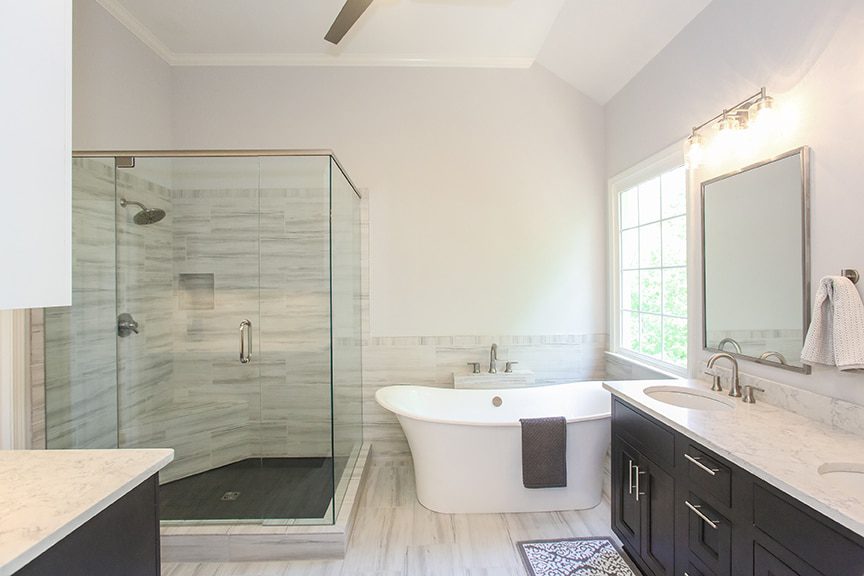 Wallpaper
If there is one thing we know, it's that wallpaper evokes strong emotions. But don't be too quick to shy away from wallpaper. There are many newer designs that will not only challenge your preconceived notions (and bad memories), but can make your bathroom stand out and feel more alive.
Have you always wanted to incorporate some stonework in your bathroom but couldn't because it was so expensive? Try a wallpaper design that has been created to mimic stone patterns. Options like marbleized wallpaper are your ticket to a glamorous yet contemporary look. These patterns can be so impactful, especially in a smaller space like a bathroom.
Stone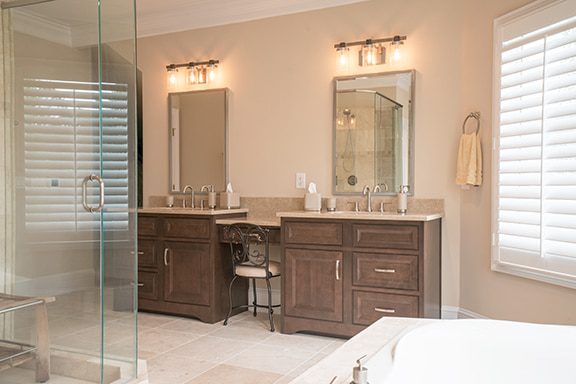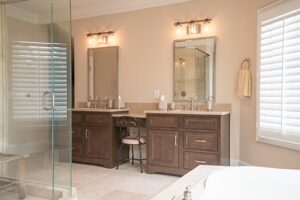 For your 2020 bathroom remodel, consider Travertine Stone to bring a one of a kind flair to your space. Not only is this eco-friendly material less expensive than marble or granite, but it is also durable and will last for years to come! Travertine is available in a variety of shapes and sizes to fulfill whichever patterns your heart desires. With its natural earthy color, it's destined to capture any space. However, before installing Travertine consider the maintenance that comes with it. Travertine is a porous material, prone to additional wear and tear. Proper sealing becomes important to ensure it stays protected and lasts.
Lighting
What better way to brighten up your bathroom than with some signature light fixtures? The smallest piece of lighting can really make a difference and change the mood of your space. While countertop, tile and flooring are critical parts of the design of your new bathroom, it would be a mistake to overlook lighting. Getting ready in the morning would mean absolutely nothing if you can't see yourself well, right? Functionality proves to be at the top of the list when discussing where and what type of light fixtures to install. Backlit mirrors or other integrated lighting options are a perfect way to give your bathroom a nice look while still allowing for optimal light.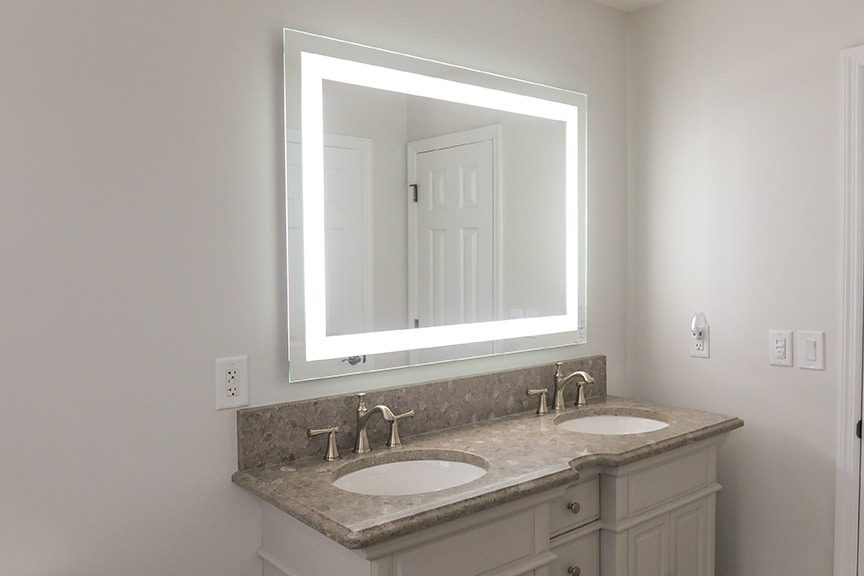 Metals
Gold fixtures may scare some at first simply because well "I grew up on stainless steel… more things go with silver… I've just always had stainless steel appliances." Let us be the first to tell you that gold fixtures are back and better than ever! These fixtures are taking over sinks, toilets, showers and even your drawer handles. Transform your bathroom int
o a cooler and sleeker feel without having to see your fingerprints or water spots! This warm-toned gold plumbing will add depth, dimension and luxury to your newly renovated bathroom.
If gold is too bright of a finish for you, brass is a very close second but with a warmer and darker feel. It's a great way to add a little luxe in your life and can really make a bathroom feel more like a sanctuary.
However, if gold or brass just isn't for you, there is one more metal finish we see popping up in 2020 that will match perfectly with stainless steel – copper.
Tile
Technology has enabled us to do more than we ever imagined, and it's also making a difference when it comes to home building and remodeling. Manufacturers are now able to create all sorts of designs using tile and they are pushing the limits with colors and graphics to challenge our traditional view of tile. In 2020 you'll see tile in shapes and styles like hexagons, diamonds, fish scales, and chevron patters to give your bathroom that eye-catching appeal! And don't forget that tile has multiple applications in the bathroom, from flooring and showers to vanity backsplashes.
As far as showers go, don't feel like you must tile your shower all the way up to the ceiling if you have a taller ceiling. You might even consider installing a window with the extra wall space to bring in some natural light.
Marble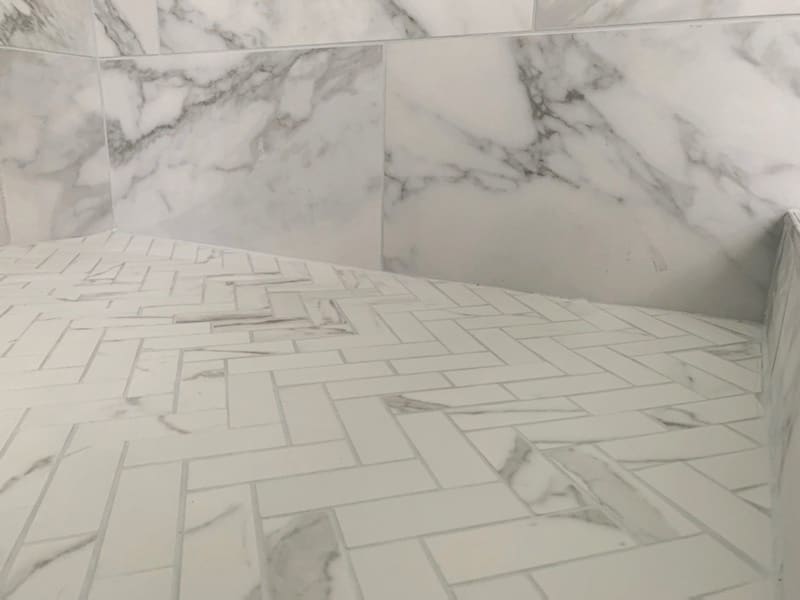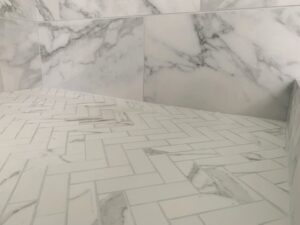 There is no doubt that marble would be a beautiful addition to your bathroom. Its classic and elegant look could make your bathroom look incredible for years to come! If you're not wanting your bathroom to be the slick, all-white look usually associated with marble, try a more unusual marble pattern. When we say unusual, we definitely don't mean it in a bad way. Unusual means different, and different can always end up being a good thing. When selecting the marble slab that best fits you and your style, think of it as if you were planning on painting your bathroom walls; consider the beautiful colors you want to be looking at as you walk through. Not only are you giving your bathroom a trendier look, but you are installing art with the unique design options that comes with marble. If you want a marble look with even better durability, there are many options for "marble look" quartz countertops or porcelain tile.
Mirror
Similar to different shaped tile patterns, asymmetrical mirrors are all the buzz in the design world. You now have the ability to get as creative as you would like when it comes to picking out your style.
Technology can come into play here as well, as our bathrooms are becoming smarter and smarter. You can now ensure that your mirror has anti-fog features, smart touch, and of course USB charging stations, all to improve convenience for your morning and nightly routines.
Dramatic Decor
We know there are some out there who want that eye-popping dramatic look in their homes, and why shouldn't that extend to the master bathroom?
Earlier we told you about the beauty of freestanding bathtubs and how they can really draw attention. If you want to take it to the next level, a less popular but more splashy option to consider is a freestanding black bathtub. Pair it with gold or brass fixtures to create your modern, sleek look! And if you've spent the money on finer finishes and want to take it one step further, consider exposing some of the plumbing instead of limiting yourself to knobs and handles.
Whether it is a dramatic, modern space you're seeking or a clean, simplistic design that lends itself to relaxation, we can help. The design/build experts at Tracy Tesmer Design/Remodeling can help transform your vision into the bathroom of your dreams that will come to life in 2020, and for many years to follow.